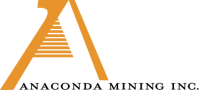 TORONTO, ONTARIO -- (Marketwire) -- 01/14/13 -- Anaconda Mining Inc. ("Anaconda" or "the Company") - (TSX: ANX) is pleased to report that diamond drilling has commenced at its Pine Cove mine on the Baie Verte Peninsula, Newfoundland and Labrador. The ten hole, 2,000-metre program will test the potential down-dip extension of the Pine Cove deposit. Drilling will focus on extending the gold mineralization intersected by previous drilling immediately north of the open pit. This mineralization lies approximately 100 metres down the projected dip of the Pine Cove deposit and has the potential to extend the mine resources.

Potential Down-Dip Extension

Historic, but widely spaced and mostly shallow, diamond drilling immediately north of the Pine Cove open pit has indicated potential for a down-dip extension to the Pine Cove deposit. Drilling carried out by Anaconda in 2011 (Anaconda Press Release, July 2, 2011) intersected significant gold values from a drill hole located less than 100 metres north of the rim of the ultimate open pit (based on the current mine plan and reserves) (Figure1). Drill hole PC-11-181 intersected 2.50 grams per tonne over a core length of 40.8 metres, including 7.18 grams per tonne over 3.2 metres and 11.44 grams per tonne over 4.3 metres. Follow-up diamond drilling completed in 2012 (Anaconda Press Release, Sept. 13, 2012) consisted of two holes collared north and south of PC-11-181. PC-12-188, which was collared 44 metres south of PC-11-181 on section 295550E (Figure 2) at a dip of -75 degrees and an azimuth of 175 degrees, deviated significantly to the east and did not intersect the projected mineralized zone. PC-12-189, which was drilled on the same section 25 metres north of PC-11-181 at an azimuth of 180 degrees and a dip of -75 degrees, intersected several zones of gold mineralization, the widest assaying 0.848 grams per tonne gold over a core length of 32 metres.

Current Diamond Drill Program

This 2013 diamond drilling program will attempt to trace the gold mineralization intersected in PC-11-181 both up dip towards the Pine Cove deposit and to the north and northeast. Initial drilling will focus on the potential up dip area south of PC-11-181 along section 295550E. Infill drilling will also target the immediate area beneath the bottom of the ultimate open pit to help with pit design and tighten ore definition in the deeper levels of the deposit (Figure 1). It is anticipated that the drill program will take six to eight weeks to complete.

President and CEO, Dustin Angelo, stated, "We are excited by the potential of the down-dip area to extend resources at the Pine Cove mine. Drill hole PC-11-181illustrates the potential of this area to host economically significant gold mineralization. Hole 181 intersected gold grades that are substantially higher than Pine Cove's average grade of 2.07 grams per tonne."

The diamond drilling is being carried out by New Valley Drilling of Springdale, Newfoundland. The NQ core will be logged and sampled by Anaconda personnel at the Pine Cove Mine site. Samples selected for analyses will be sawn; half the sample will be tagged and placed in a sealed plastic bag. Samples will be transported by Anaconda personnel to the Eastern Analytical Laboratory in Springdale, Newfoundland for fire assay. As part of the QA-QC protocol standards and blanks will be randomly inserted during the sampling process. The remaining core will be stored at the Pine Cove mine.