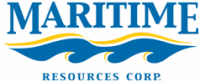 VANCOUVER, BRITISH COLUMBIA -- (Marketwire) -- 01/10/13 -- Maritime Resources Corp. (TSX VENTURE: MAE) reports that final results have been received for the 2012 Rumbullion trenching program at the Hammerdown deposit near Springdale, Newfoundland. These assay results have returned numerous high grade gold values along the Rumbullion Main (RM) vein, including values of up to 94.4 g/t gold over 0.3 metres width. The new values extend the strike length of the vein, confirming and building upon the previously released (NR 12-11, dated Sept. 12, 2012) values of up to 96.6 g/t gold over 0.3 metres. Trenching has now exposed the RM vein at surface for over 120 metres. Work was terminated due to the onset of winter weather but the vein remains robust at its eastern extension and work can be resumed after spring break-up.

Almost 500 saw-cut channel samples have been taken along the exposed RM vein at regular 4 metre intervals. Individual channel samples of the vein are very high grade, assaying up to 94 g/t Au over 0.3 metres. When wall rock assays are added and expanded to a minimum mining width of 1.2 metres, veins still average up to 23.9 g/t Au over 1.2 metres. The trenching and overburden conditions are still favourable on strike to the east and the vein remains open, with the most easterly sample assaying 60.75 g/t Au over 0.3 metres.

Mapping of the vein shows a typical lensoid nature of the vein, pinching and swelling over the exposed 120 metre length. This is similar to the mined portion of the western Rumbullion veins which were excavated between 2000 and 2004. The trenching has also shown that the RM vein bifurcates (splits) into two veins for a 75 metre extent of the exposed area. For reference, these are the named RM-1 and RM-2 veins and are separated by 2 to 3 metres.

Selected assay results of RM vein are shown below. A trenching diagram showing the area of channel sample locations and tabulated assay results are available on the Company's website.


----------------------------------------------------------------------------                              Sample       From - To   Total Length     GoldChannel ID   Zone             Number        (Meters)       (Meters)    (g/t)----------------------------------------------------------------------------RCS-12-17    RM Vein                     2.60 - 3.90           1.30    18.15             ---------------------------------------------------------------               (Including)     68392     3.55 - 3.90           0.35    64.03----------------------------------------------------------------------------RCS-12-12    RM-1 Vein                   0.75 - 1.95           1.20     4.88             ---------------------------------------------------------------                               68334     1.50 - 1.75           0.25    19.58----------------------------------------------------------------------------RCS-12-29    RM-2 Vein                   0.60 - 1.80           1.20     6.94             ---------------------------------------------------------------               (Including)     83371     0.90 - 1.20           0.30    27.20----------------------------------------------------------------------------RCS-12-27    RM-1 Vein                   0.60 - 1.80           1.20    12.77             ---------------------------------------------------------------               (Including)     83357     1.10 - 1.40           0.30    75.92----------------------------------------------------------------------------RCS-12-24    RM-1 Vein                   0.70 - 1.90           1.20     3.13             ---------------------------------------------------------------               (Including)     68498     1.00 - 1.30           0.30    11.67----------------------------------------------------------------------------RCS-12-37    RM Vein                     0.60 - 1.80           1.20    23.91             ---------------------------------------------------------------               (Including)     83486     0.90 - 1.20           0.30    94.38----------------------------------------------------------------------------RCS-12-38    RM Vein                     0.00 - 1.20           1.20    15.47             ---------------------------------------------------------------               (Including)     83492     0.60 - 0.90           0.30    60.75----------------------------------------------------------------------------