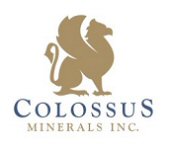 TORONTO, ONTARIO -- (Marketwire) -- 01/10/13 -- Colossus Minerals Inc. (TSX: CSI)(OTCQX: COLUF) reports assay results from the recent diamond drilling program on the Elefante area where earlier in the year auger drilling had returned values of gold, platinum and palladium. The Elefante area is located approximately two kilometres to the southeast of the Serra Pelada Gold-Platinum-Palladium Mine. The Serra Pelada Mine is a 75%/25% joint venture between Colossus and Cooperativa de Mineracao dos Garimpeiros de Serra Pelada (COOMIGASP) located in the State of Para, Brazil.

HIGHLIGHTS


--  Precious metal values are near surface--  Possible new exploration target model as the samples containing precious    metals lack the strong carbon upgrading associated with the    mineralization at the Serra Pelada Mine--  Mineralization is currently open in all directions as preliminary four-    hole program tested a small proportion of surface anomalies--  Hole EL-12-001 contained the highest overall gold value and returned    5.70 metres grading 5.41 g/t gold, 0.04 g/t platinum and 0.29 g/t    palladium--  Hole EL-12-002 contained the highest overall platinum and palladium    values and returned 5.10 metres grading 0.45 g/t gold, 1.27 g/t platinum    and 2.04 g/t palladium
Claudio Mancuso, CEO of Colossus commented, "We conducted this limited drill program to explore the possibility that mineralization encountered in previous soil and auger sampling programs continue into the bedrock. While we remain focused on development of the Central Mineralized Zone ("CMZ") where we continue progressing well with bulk sample extraction, we are encouraged by these results and anticipate that further exploration could lead to development of a satellite deposit. The area has seen little diamond drilling by Colossus and will be further explored in 2013. We look forward to providing an update on the progression of the bulk sample and other development activities in the next few weeks."
DETAILS
The Elefante area is located approximately two kilometres to the southeast of the Serra Pelada Mine (click the following link to view the accompanying map:
http://file.marketwire.com/release/CSIfig1.pdf
). The bedrock in the Elefante Area consists of Archean aged (2.68 billion year old) sediments belonging to the Rio Fresco Formation which also hosts the Serra Pelada orebody.
This release reports assay results for four HQ caliber diamond drill holes totaling 365 metres that were drilled in November and December 2012. The drilling program was a follow-up on encouraging precious metal results that came from an auger drilling program carried out over the Elefante area between January and May 2012 (see press release dated August 20, 2012 for details).
The objective of the diamond drilling program was to verify if the results that were encountered in soil sampling and auger drill hole programs were bedrock sourced. The mechanical auger cannot penetrate bedrock and can only drill to resistance (which usually means it ends in saprolite or the deeply weathered portion of the bedrock which lies just above the fresh bedrock). Auger drilling campaigns that preceded the diamond drilling program managed to outline a low grade (greater than or equal to 1 g/t combined gold + platinum + palladium) anomalous area roughly 200 metres long in an almost east-west direction and approximately 100 metres wide in a north-south direction (see map inset). Within this broad envelope lies a well defined, higher grade isocontour that was the main target of the diamond drilling program which tested an area roughly 25 meters (east-west) by 50 metres (north-south).