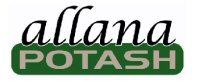 TORONTO, ONTARIO -- (Marketwire) -- 01/10/13 -- Allana Potash Corp. (TSX: AAA)(OTCQX: ALLRF) ("Allana" or the "Company") held its Annual General Meeting of Shareholders on Wednesday, January 9th, 2013 in Toronto. Following the formal portion of the meeting, the company provided a corporate update and noted several significant corporate milestones that were achieved during 2012 and presented upcoming project development targets. Senior management and the Board of Directors are extremely pleased with the Company's progress to date, and are very excited about the year ahead. The highlights are as follows:


--  The Feasibility Study (FS) is scheduled to be completed by the end of    January 2013.--  Significant technical de-risking has been accomplished and the mineral    resource estimate updated to 1.3 billion tonnes (M+I) @19.3 % KCl. (See    Technical Report dated April 30, 2012 completed by ERCOSPLAN    Ingenieurgesellschaft Geotechnik und Bergau available at www.sedar.com.)--  Substantial funds were raised (over $20 million) in a difficult market    environment in early 2012. The Company continues to have a healthy cash    balance of over $40 million (as at October 31, 2012).--  With the acquisition of Nova Potash (see news release dated November 1,    2012), Allana further consolidated its already substantial potash    holdings in the Danakhil potash basin of Ethiopia.--  Significant progress was made on the Company's debt financing process.    Formal letters of interest from several major development financial    institutions were secured for over US$600 million.--  Preliminary interest has been expressed from several international    financial organizations regarding construction equity financing and    talks are proceeding well.--  Major hydrogeological study completed with more than adequate water    resources for a 1 million tonne/yr solution mine with expansion to 2-3    million t/y now feasible (see news release dated January 7, 2013).--  Infrastructure build rapidly progressing with road, rail and port    facility upgrades on target for completion before mine production    commences.
Farhad Abasov, President and CEO commented, "We are extremely pleased with the accomplishments and progress that Allana Potash has made on all fronts regarding our major potash development project in Ethiopia to date. The hard work and dedication of our fully committed management and technical teams has been a major factor in our rapid progression from exploration to development and eventual production. We look forward to the first half of 2013 as a pivotal period in our evolution into a major potash producer in the region. I would like to thank all employees for their hard work and dedication as well as the Board of Directors and all shareholders for their counsel and support throughout our transition from a junior mining exploration company to eventual potash producer. We have much yet to accomplish but are on track to achieve all our goals and milestones for 2013."
A complete overview of the AGM presentation is available on our website at
www.allanapotash.com
.