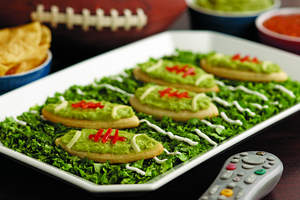 Homegating Snackers


MISSION, KS -- (Marketwire) -- 09/06/12 -- (Family Features) Game day is no time to be sidelined in the kitchen. Do a little pre-game planning so you can spend less time cooking and more time cheering on the home team.

Keep it simple -- Instead of taking up space with a lot of dishes to hold condiments, use muffin pans. Each well in the pans can hold a different topping for your burgers, hot dogs or chili. Put a spoon in each for easy dipping. It's simple, fun, and you'll have fewer post-game dishes to wash.

Set up a dipping station -- Have a selection of salsas and guac available so everyone can have their favorite. From Wholly Salsa's classics to the new red pepper mango or roasted tomato varieties, fans can find a salsa to cheer about. And for guacamole lovers, try Wholly Guacamole's all-natural, gluten free varieties. In addition to chips, set out some of these tasty dippers:

•Bell pepper slices •Baked mozzarella sticks •Shrimp •Pita chips •Bagel chips •Jicama sticks •Mini rice cakes

Make sure you have enough -- Don't disappoint guests by running out of munchies or drinks. Here's how to figure out how much you need to prepare:

•If you're having 8 to 10 guests, figure on three different appetizers. For up to 16 guests, plan four or five appetizers.

•For non-alcoholic drinks, plan on two 16-ounce cups per person. Plan on about two glasses of wine or three beers per person.

•To have enough ice for drinks, as well as to keep drinks cold in a cooler, get about a pound and a half of ice per person.




Homegating SnackersYield: 10 to 12    1       tube pre-made pizza crust (thin)    1       7-ounce package Wholly Guacamole dip    1       red bell pepper cut into small strips
Roll out uncooked pizza dough on counter.
Use football or other shaped cookie cutter to cut pizza dough and place on cookie sheet sprayed lightly with oil.
Cook dough according to packaging instructions. Allow to thoroughly cool.
When cool, spread with guacamole and use cheese shreds and pepper to create football laces and markings.
Optional: Plate on a bed of shredded lettuce, and use sour cream to create field yard lines.
Avocado Cream Cheese DipServes: 6    1       8-ounce package cream cheese    1       7-ounce package Wholly Guacamole    3/4     teaspoon salt, divided    1       lime, juiced    1       tablespoon cilantro, minced    1/2     teaspoon chili powder    2       cups sour cream    3       tablespoons chipotle peppers in adobo sauce, pureed    1       cup 3-cheese blend shredded cheese    1/2     cup green onion, sliced    3/4     cup Roma tomatoes, cored, seeded and diced
Allow cream cheese to soften and warm to room temperature, about 30 minutes.
Whip cream cheese at medium speed for 3 minutes to fluff. Add guacamole and beat for another minute.