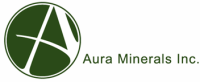 VANCOUVER, BRITISH COLUMBIA -- (Marketwire) -- 09/04/12 -- Aura Minerals Inc. ("Aura Minerals" or the "Company") (TSX: ORA) is pleased to announce it has received the results of the feasibility study (the "FS") on its wholly owned Serrote da Laje ("Serrote") property located near the city of Arapiraca in the state of Alagoas, Brazil.

The FS, prepared under the direction of Micon International Limited ("Micon"), comprises contributions from Micon and other consultants, such as SNC Lavalin-Minerconsult. The FS describes the scope, design and viability of developing Serrote based on an open pit mining operation with a copper concentrator operating at 19,000 tonnes per day and producing approximately 66 million pounds of copper per year.


Highlights (all currency in US dollars)--  Open pit mine and copper concentrator processing 7 million tonnes per    annum;--  After-tax NPV (8%) of $191 million and IRR of 19.4% based on consensus    metal price forecasts;--  Capital cost of $420 million;--  Life of mine cash cost of $1.40 per pound of payable copper;--  Production of 831 million pounds of copper and 171,000 ounces of gold    over a 13 year mine life;--  Magnetite recovery and oxide ore treatment identified as future    opportunities;--  Satellite deposits remain open and may offer potential to extend mine    life or lead to expansion;--  Mining Concession and Environmental Installation License obtained;--  Community resettlement negotiations underway;--  Projected production starting in mid-2015;--  Project financing discussions underway.
Jim Bannantine, President and CEO of Aura Minerals stated: "Completion of the Serrote project feasibility study is a significant milestone for Aura Minerals. The study demonstrates a Project that is commercially viable and beneficial to the region. Serrote can provide a domestic source of copper concentrate for Brazil, in relative proximity to the smelter in Bahia State, avoiding the need to import copper concentrate for these volumes. The Project is also 150 kilometers from the international port of Maceio and benefits from ample existing sources of water and power as well as the 225,000 person city of Arapiraca, 15 kilometers from the mine. The mine and plant will also provide hundreds of permanent jobs for the developing Northeast region of Brazil in Alagoas State. The Project benefits significantly from both Alagoas State and Federal tax benefits that target both the Northeast region and the Serrote da Laje Project, specifically. The Company has initiated negotiations with adjacent communities, with potential project lenders and is targeting construction to begin in the second half of 2013 and production start-up by mid-2015. We intend to
finance
this Project with a combination of public institutions, export/import banks and multilateral agencies, as well as commercial banks, who specialize in mining
finance
."
Summary Project Description:
The Serrote Project has been designed as a conventional open pit operation using large diameter blast-hole drills, hydraulic excavators and truck haulage. Proven and Probable mineral reserves are based on mining of the Serrote resource only. Resources estimated for the satellite deposits Caboclo, Rogerio and Zeze are not included in the reserves and remain a future opportunity.