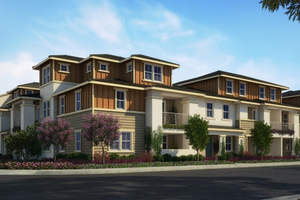 The Courts neighborhood will offer seven motor court flat and townhome designs.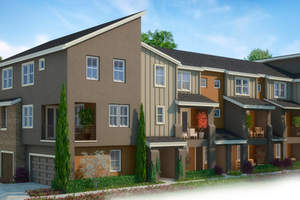 The Row neighborhood will offer seven townhome designs.



MILPITAS, CA -- (Marketwire) -- 09/28/12 -- Homebuyers who want a new home in the heart of Milpitas are encouraged to get connected now to Coyote Creek by registering their interest online at LyonCoyoteCreek.com for inside track news and updates. Ideally located adjacent to one of the bustling Cisco Campuses, Coyote Creek by William Lyon Homes will offer a complete home buying package -- low maintenance floorplans, resort-style recreation and a central setting. It's all here, so get plugged in and Like Coyote Creek on Facebook today.

"With modern homes that are built smart, priced right and easily accessible to the high-tech pulse of Silicon Valley, Coyote Creek will offer buyers a new way to live in a dynamic South Bay location," said Lesley Pennington, Vice President of Sales for William Lyon Homes. "The community's two neighborhoods, The Rows and The Courts will offer the unbeatable advantages of brand new architecture and a total of 14 flexible floorplans, giving buyers plenty of choices to find their perfect fit. The convenience of attached designs also means buyers don't have to worry about yard upkeep during their valuable weekends, giving them more leisure time to enjoy the community's private amenities and the adjacent Coyote Creek Trail."

"Coyote Creek has been planned to encourage a vibrant lifestyle and to support a healthy mind, body and soul. On-site recreation will present an all-encompassing opportunity to keep fit, socialize or just unwind after a busy day. For those who prefer to connect with the great outdoors, there are plenty of adventures at adjacent Coyote Creek Trail. Of course, a convenient location is also key to a demanding life and homeowners at The Rows and The Courts will have easy access to the I-880 and the incredible convenience of mass transportation via the light rail, which gets you everywhere from The Great Mall to Sunnyvale."

"The best is yet to come and I would like to once again encourage homebuyers who want everything in one extraordinary package to visit LyonCoyoteCreek.com to get connected for Phase One pricing and updates as special events get closer and to enjoy a multi-media overview of Coyote Creek," Pennington added.