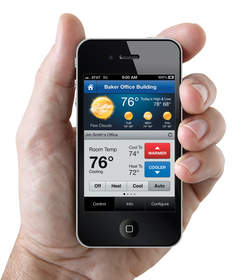 Venstar ColorTouch Commercial Thermostat With Wi-Fi KeyEnables Remote Access and Control of ThermostatsFrom Mobile Devices Via Skyport Cloud Services



CHATSWORTH, CA -- (Marketwire) -- 09/18/12 -- Venstar®, a leading thermostat and energy management systems supplier, today announced its newest accessory, the Skyport™ Wi-Fi Key for the ColorTouch® commercial thermostat. The Skyport Wi-Fi Key connects to Skyport Cloud Services enabling HVAC contractors and installers to remotely control, monitor and troubleshoot their clients' ColorTouch commercial thermostats. Compatible with iPhone®, iTouch®, iPad®, Android, Mac and PC devices, the mobile app is free. The ColorTouch and Skyport Wi-Fi key can be purchased together or separately. The Skyport Wi-Fi key can also be purchased separately and used with the original ColorTouch thermostat.

"With ColorTouch Commercial and Wi-Fi- key, HVAC contractors and installers can provide customer service using the free mobile app on their mobile devices. This allows them to remotely control, monitor and troubleshoot clients' thermostats from virtually anywhere they have Wi-Fi, 3G or 4G, or Internet connections," said Steve Dushane, president and CEO, Venstar Inc.

The new ColorTouch commercial mobile application allows HVAC contractors to remotely monitor and control up to 100 locations over the Internet using Skyport Cloud Services. Multiple people can control thermostats at the same location(s) individually from their mobile devices.

Once a Skyport Cloud account is created online, users can use the application on their mobile devices or directly from the Web to:

•Instantly access up to 100 commercial locations; •Easily monitor and control comfort settings at multiple buildings and office locations, including monitoring room temperature, supply air temperature, outdoor air temperature, run-time hours, and more; •View incoming alerts via email on pre-configured notifications, such as important updates on the health of the system or simply if the inside temperature has gone above or below pre-set limits; •Monitor thermostat information, including system run times and current usage, for each thermostat at all locations; •View a pictorial display of the current weather and weather forecast for all thermostat locations; •Schedule holidays for up to 365 days of each year, including reoccurring unoccupied days so that the thermostat can be set for "unoccupied" during those periods; •Prevent unauthorized use by auto-screen lock or set point limiting; and •Send text messages from the mobile device to the thermostat display, such as reminders and notes.