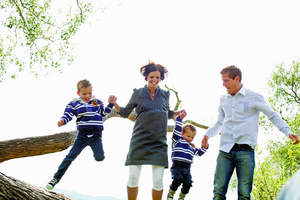 Photo courtesy of Getty Images


MISSION, KS -- (Marketwire) -- 09/13/12 -- (Family Features) Routine can be a good thing. Regular bedtimes and nightly family meals help foster healthier kids who are better prepared to tackle challenges. But some of your family's routine habits may be getting in the way of something better.

Habits get established for any number of reasons -- busy schedules, convenience, or not realizing you have other choices. Shortcuts and timesavers can give you more time to spend together, but they could also be shortchanging your experience.

How to Change a Habit
Breaking habits can be tough, but luckily there are many ways to reach your goals. Here are some simple questions and tips to help you break any bad family habits, and establish new, better ones.

•What's the habit?
Get everyone together and talk about what family habit you would like to change. Is it unhealthy eating? Too much TV? Always running late? Start small and keep it simple. If everyone is involved in the conversation, you're more likely to get everyone's buy-in and meet with success.

•What's the reward?
People stick to habits because something rewards that behavior. The reward makes it easier for the brain to put the behavior on autopilot, and before you know it, you have a habit. But the reward may not be that obvious. You may have to try out different rewards to discover what the true payoff for the bad habit really is. For example, you might discover that the real reward of watching TV after dinner is spending time together as a family.

•What's the plan?
Once you identify the habit and understand its reward, you can come up with a family plan to start a new habit with new -- and better -- rewards for everyone.



Ideas for New Routines
Here are some common family habits that could use a little revamping -- and some easy ways you can make a positive change.

TV Habits
After a long day, the couch seems to be calling you to just sit and watch TV -- even though you know you could or should be doing other things. But you don't have to be stuck in a TV rut. Talk about it as a family and see if you can figure out what your reward is for watching TV. Is it time together? Is it relaxation? Or is it enjoying a good story? Once you identify the reward, look for some other ways to get it.

•Togetherness
If it's about being together, brainstorm some other family activities. Think about family game night, backyard soccer, arts and crafts projects, or time at the neighborhood park.

•Relaxation
If it's just about chilling out, try substituting other relaxing activities like listening to music, or even just talking.

•Story time
If you all enjoy the story element of your favorite TV shows, how about looking for new stories? Set aside some individual reading time, or let everyone take turns reading aloud from their favorite book. Reading a whole story as a family is a fun activity -- and younger kids may enjoy acting out their favorite scenes.