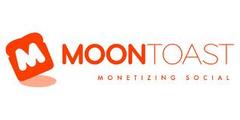 BOSTON, MA -- (Marketwire) -- 09/12/12 -- Moontoast, a leading social marketing, social commerce and analytics company, today announced it continues to broaden its offerings with the launch of a new suite of social activation applications, several new customer wins, and expanded partnerships.

Moontoast is a market leader in social engagement, social commerce, and social analytics. The company's digitally distributable marketing applications and patent-pending social analytics facilitate social marketing and help brands drive social engagement and growth, lead generation, and digital and physical product sales. The company's newest social marketing applications can be distributed anywhere online and load at the point of impression with the user. These interactive applications work in tandem with the Moontoast Social Analytics Suite, which was built from the ground up to deliver critical insights that help clients understand their relationships, relevancy, and results. Customized views allow users to see which messages led to interactions, transactions and endorsements. This suite gives marketers and brand managers a full suite of powerful, social marketing apps that include the ability to self-fund social campaigns through commerce-enablement and to keep users continuously engaged.

"Targeting customers at their point of impression and engaging them to take action are the Holy Grails of effective marketing ROI, and the future holds more location-specific deals, rewards for referrals, public purchasing, and direct purchases in the newsfeed," said Errol Apostolopoulos, VP of Product at Moontoast. "And if the last decade was spent building the social infrastructure to create value for brands, this decade will be spent capturing that value so both consumers and businesses benefit by action and real results."

The Moontoast Social Marketing library of applications include:

Sweepstakes -- The sweepstakes application can be used for any lead generation initiative, such as simple email newsletter signup forms, embedded on a brand's website or affiliate sites, and distributed across social networks, for limited edition purchases, or for new product launches where users can get products for free or before anybody else.

Pin it to Win it -- This application promotes products through the pinning of a selection of merchandise or other prizes. It equips brand offers to spread across Pinterest as fans pin and share to their own networks for a chance to win or redeem rewards.

Voting -- This application rewards fans for giving their unbiased opinion by voting between product designs, destinations, and cover art after being presented with visual options.