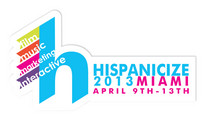 MIAMI, FL -- (Marketwire) -- 09/12/12 -- Hispanicize 2013 (http://www.HispanicizeEvent.com) (#Hispz13), the annual Latino trends and newsmaker event for social media, blogging, media, advertising, PR and film, is about to get a little louder and a lot more exciting.

That's because the Latin Music Industry and Hispanic journalists will be playing prominent roles in the fourth edition of the blockbuster, five-day event that will be held at the Eden Roc Hotel in Miami Beach, April 9-13, 2013. (Watch the Hispanicize 2012 Recap Video here: http://www.youtube.com/watch?v=kzWRv9iiZG4).

A partnership of the Hispanic Public Relations Association (HPRA), Hispanicize Digital and the Public Relations Society of America (PRSA), Hispanicize 2013 is a trailblazing multi-industry event that has become a national launch pad for ideas, celebrities, ventures, products, services, films and more targeting Latinos.

"Hispanicize 2013 is where substance meets great content and creativity with sessions about industry best practices, major Hispanic brands, celebrities, bloggers, media, cultural influencers and lots of fun," said Manny Ruiz (@MannyRuiz), Hispanicize 2013 co-founder and creative director. "Our goal is to tangibly impact every key stakeholder, whether they're a brand wanting to connect with influential media and bloggers, an up-and-coming filmmaker interested in financing a movie, or an industry professional wanting to learn about the next big thing in the Latino community."

"There are many ingredients to the success of Hispanicize, but one thing that makes it stand out is a continual spirit of innovation. This event has disrupted its own formula and re-written the rule book, creating an environment in which multiple industries come together to converge, collide and collaborate," said Mike Valdes-Fauli, co-chair of Hispanicize 2013 and president of JeffreyGroup.

Against the backdrop of Miami, Hispanic media and marketing capital of the U.S. and gateway to Latin America, Hispanicize 2013 will feature a massive agenda of more than 80 sessions, 180 presenters, concerts, film screenings and three after parties.

The balanced agenda is divided into several content showcases: Interactive, Marketing, Journalism, Film, Music, and Latinovators.

Interactive (bloggers and social media) Showcase: This track features more than 25 sessions exclusively devoted to best practices in social media, blogging and mobile marketing. The event will continue to aggressively build on its legacy of bringing Hispanic bloggers together with the brands, agencies and companies that want to work with them. In addition to the blogger sessions, Hispanicize 2013 will also feature best practice programs about leveraging mobile technology, Facebook, Twitter and other emerging tools to engage Latino communities online.