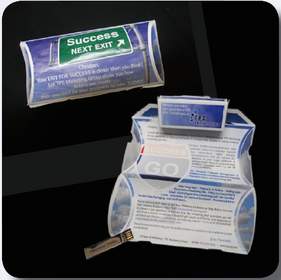 TPS Marketing Group Uses Relyco DigiPOP Flash Drive Mailer to Get Results



DOVER, NH -- (Marketwire) -- 08/07/12 -- Relyco®, a leading provider of value-added business printing and payment solutions, today announced a partnership with TPS Marketing Group, LLC (TPSMG), a leading provider of solutions and services that automate and enhance multi-channel sales and marketing initiatives. Specializing in variable data programming, printing and 3D promotional campaigns, TPSMG will use Relyco's DigiPOP digital packaging solutions to create custom personalized marketing campaigns that are proven to deliver results above and beyond traditional direct marketing.

"TPSMG takes a very unique fully personalized approach to direct marketing and it all starts with an impact deliverable that gets opened," said Ted Hebert, vice president of marketing at Relyco. "Using our DigiPOP digital packaging solution templates, TPSMG can quickly create over a hundred different 3D packaging and promotional items on demand using their digital presses. This enables TPSMG to keep the messaging fresh and personal for its clients."

With Relyco's DigiPOP and its variable data printing (VDP) capabilities, TPSMG is creating a real "wow" factor for its customers. TPSMG is now quickly delivering direct marketing campaigns with such a unique and creative appearance and superior quality that it is exponentially increasing the success of each campaign to an additional 30, 40, or even 50 percent above statistical response averages.

"Personalization throughout our direct marketing campaigns is what makes them so successful for our customers. Every step of the process is personalized from the delivered packaging and promotional items to the integrated print and online deliverables," said John Pankanin, vice president of sales and marketing for TPSMG. "With DigiPOP, Relyco provide us with dozens of 3D packaging solutions that we can customize using our variable data programming and printing capabilities."

Relyco's DigiPOP digital packaging solutions eliminate the cost and time barriers of getting a customized and personalized 3-D mail, promotion, or presentation piece into the hands of the targeted audience. DigiPOP solutions are comprised of specially designed "flat sheet" flexible and foldable packaging substrate templates that are optimized for nearly all of the most popular and widely used large format laser and standard digital press equipment. Using a patented, break-clean edge technology, DigiPOP enables printers to produce efficient, short-run custom packaging with exceptional print quality and easy folding capability for impressive presentation. Samples of available DigiPOP templates include golf ball sleeves, flash drive mailers, gift boxes, and many more unique items.