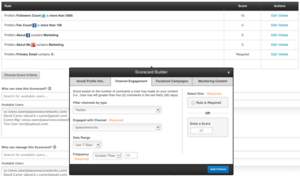 Social Scorecard from Awareness's new Social Marketing Automation Suite.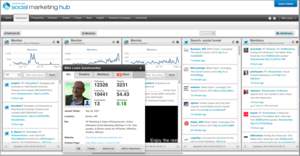 Social Profile collection from Awareness's new Social Marketing Automation Suite.



BURLINGTON, MA -- (Marketwire) -- 08/06/12 -- Today, Awareness, Inc. unveiled its new, exclusive, Social Marketing Automation suite which, for the first time, allows marketers and brands to identify, store and rank prospects across all the major social networks based on scoring criteria they define. Marketers have been challenged with identifying ROI because social marketing management software has traditionally focused on metrics such as 'Likes,' fans and comments without tying to bottom-line results. This new, industry-first functionality puts marketers in control and allows brands to drive a specific social marketing ROI based on listening, engagement and actions while scoring that criteria based on a company's unique business rules. Awareness works with some of the world's leading brands and marketing agencies including MLB, Comcast, Likeable Media, Raidious, American Cancer Society, Tiger Woods Foundation, The Carlsberg Group, Mindjumpers, Nuance, DemandWare, and Trend Micro.

"The trouble with single-number influencer rankings is that they oversimplify a complex concept," said Paul Gillin, author of "The New Influencers" and "Social Marketing to the Business Customer." "Influence is specific to the situation. Awareness is taking an important step in making it easy for customers to define what influence means to them and to monitor social engagement in a context that's relevant to their business. It's easier than ever to generate leads today because so much information is public, but lead quality continues to be a huge problem. Bad leads do no one any good. This step addresses this stubborn problem. With the Social Marketing Hub, the company is making it possible for its customers to mine public conversations to find and focus on only the highest-value leads."

This set of capabilities is unique and exclusive to Awareness, and includes Social Prospecting, automated collection of Social Profiles, and Social Scoring. Marketers no longer need to rely on one-size-fits-all third party scoring rules to identify the best prospects for nurturing activities or influencers to target. This unique ability to customize and act upon social data fills a deep gap in CRM, Marketing Automation or Email Marketing platforms such as Salesforce.com, Marketo, Eloqua, and SilverPop.

The Awareness Social Marketing Hub allows marketers to easily prospect, capture, target and convert leads. Awareness has placed three components at the core of the solution with capabilities unique in the social marketing field:

•Social Prospecting - Easily identify new prospects outside of your brand's established audience. •Automated Social Profile Database - Develop an accurate picture of your brand's existing audience as well as targeted prospects on the social web. Profiles are populated in real time with all available demographic information coupled with the user's social activity to create deep profile intelligence. •Social Scoring - Analyze and apply weighted scores to social profiles in your database to easily build your own segmentation logic to meet specific business goals. Scorecards can identify prospects for targeted messaging via the Hub or integrated into CRM, marketing automation, and email management systems.