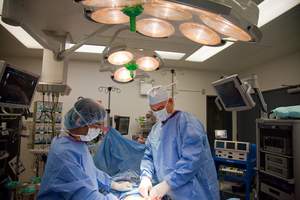 David B. Samadi, MD, is the Vice Chairman, Department of Urology, and the Chief of Robotics and Minimally Invasive Surgery at The Mount Sinai Medical Center in New York City. As a board-certified urologist and an oncologist specializing in the diagnosis and treatment of urologic diseases, kidney cancer, bladder cancer, and prostate cancer, he also specializes in many advanced minimally invasive treatments for prostate cancer, including his newest robotic surgery procedure, SMART Surgery.



NEW YORK, NY -- (Marketwire) -- 08/21/12 -- A patient, a prostate cancer surgeon, and a robot walk into the operating room -- but it's no joke. With prostate cancer as the punch line, preserving erectile function and enjoying sex after prostate cancer removal surgery is no laughing matter. Many men with prostate cancer are eager to get it out, but potential trade-offs are a big concern. How can I be sure my sex life will live as long as I do? In truth, robotic prostate surgery, prostate cancer treatment, and recovery is highly individual, but one surgeon is setting the bar pretty high.

The Mount Sinai Medical Center's prostate cancer surgeon, Dr. David Samadi, explains how he and his robot are optimizing quality of life for men after prostate cancer. "We shoot for three success factors -- prostate cancer cure, sexual potency, and urinary continence," said Dr. Samadi. "To get there we need three critical components -- the right patient with localized prostate cancer, a superior robotic surgery technique, and patient commitment to recovery."

For a man who spends nearly every day next to a robot, Dr. Samadi gives credit where credit is due; his electronic co-worker is just another member of his dedicated surgical team. Here's his take on making room for the robot: "Robotics are an important part of my evolving surgical career, but I didn't just jump from traditional and laparoscopic surgery to the robot. There's a seasoned transition behind the way I operate. I found a way to improve outcomes by combing proficiencies in all three surgical principal," he said.

Those surgical outcomes speak loud and clear. In Dr. Samadi's care, and with proper compliance to post-surgery follow-up, 96 percent of patients regain urinary control in 2-3 months and 85 percent are sexually potent 12-24 months after surgery.