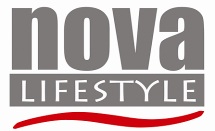 COMMERCE, CA -- (Marketwire) -- 08/14/12 -- Nova LifeStyle, Inc. (OTCQB: STVS) (OTCBB: STVS) (website: www.novalifestyle.com), a rapidly growing U.S. based designer, manufacturer and global distributor of urban contemporary furniture, today reported its continuing aggressive worldwide expansion generated record results in the second quarter and six months ended June 30, 2012.

Sales in the second quarter grew 74% to $16.15 million, up from $9.26 million in the same period last year, on a 15% increase in sales volume and an approximately 53% increase in average selling price. Net income increased 146% to $1.42 million compared with $0.58 million in the prior year period. Through the first half of 2012, sales were up 82% to $27.15 million, from $14.89 million a year earlier, on a 12% increase in sales volume and an approximately 62% increase in average selling prices. Net income in the first six months of 2012 grew to $2.40 million, up 11% from $1.59 million in the comparable period in 2011.

On a per share basis, 2012 second quarter diluted EPS was $0.08 compared with $0.05 in the same period last year, while 2012 first half diluted EPS was $0.13, compared with $0.13 in the prior year period. Diluted weighted average shares outstanding in last year's second quarter and first half respectively were 11,952,747 and 11,788,314 shares. In the second quarter and first half this year they increased to 18,491,138 and 18,589,410 shares respectively. The increase primarily is a consequence of two successful private placements completed in late 2011 and early 2012 which netted the Company a combined $5.61 million to finance further growth.

U.S. Led Growth

Mr. Jeffrey Wong, CEO, Chairman and Co-Founder of the Company, commented, "In the short time since we have been a public company, following our acquisition of Diamond Sofa in the U.S. in 2011, our progress has been dramatic, setting the stage for continuing strong, balanced global growth. Thus far, our growth has been led by our outstanding performance in the North American market, which produced a year over year sales gain in the second quarter of 129%, to $5.74 million, bolstered by increasing Internet sales and growing penetration of our target 'Top 100' furniture retailers and distributors."

Strong Global Growth As Well

Company President, and Co-Founder of Diamond Sofa, Ms. Tawny Lam, added, "We also have been focused on expanding direct sales of our branded furniture lines in China where year over year sales in the quarter grew 69%, to $4.85 million and we expanded our independently owned furniture franchise stores to more than 100 locations throughout the country. Starting in 2013, this will be complemented by an anticipated major boost in our OEM sales from our recently announced manufacturing agreement with IKEA. Further, in the quarter we saw a 34% sales increase in Europe, to $4.24 million, where despite a tougher economic environment, lifestyle conscious consumers remain highly attracted to the look, feel and perceived value of our urban contemporary furniture lines."

Sale of U.S. Luxury Mattresses in China Underway

"While it is an initiative we have focused on for some time," Ms. Lam added, "after the end of the second quarter, we announced in July what we believe could result in a further significant boost to our sales in China, namely, our first shipment of Ultra Premium 'Made in the USA' organic latex mattresses to our franchise network in China."

The Company said the significant growth potential it sees for these products lies not just in their comfort or the fact that they are made with the highest quality natural latex foam. Of special significance to China's upscale consumers, they are custom manufactured in the U.S. to size standards in China and are generating a strong initial response.

30% Gross Margin Target

During the second quarter and first half of 2012, the Company said that strong demand for its products necessitated increased utilization of third party manufacturers under the Company's supervision. This factor, in combination with increasing raw material prices, especially in China, had an impact on gross profit margins, which in the first half of 2012 were 25% compared with 28% a year earlier. Going forward, management believes gross profit margins will stabilize at approximately 30% as the Company's product mix broadens and more raw material costs are passed along to customers.

Factory Expansion

Additionally, the Company said construction was proceeding on the Phase II expansion of its manufacturing plant in Dongguan. It continues to anticipate completion before the end of the year, which will allow for increased self manufacturing during the course of 2013 in conjunction with its supply agreement with IKEA.

Strong Growth Outlook

Looking ahead, Mr. Wong stated, "We have charted a very aggressive growth course with our primary focus currently on the U.S. and China given the somewhat slower economic recovery we see in Europe. While consumers in the U.S. and China also are exhibiting caution, there nevertheless has been continuing growth in spending on refurbishing their homes to reflect their lifestyles. We believe this will continue to support the growth of our popular lifestyle conscious products, and lead to another year of substantial record growth in 2012 in line with our earlier forecasts."

About Nova LifeStyle, Inc.

Nova LifeStyle, Inc., a U.S. company headquartered in California, is a fast growing, innovative designer and manufacturer of modern LifeStyle furniture, primarily sofas, dining rooms, cabinets and bedrooms in matching collections. Nova's products are made in the U.S., Asia and its state of the art factory completed in 2011 in Dongguan, China and marketed worldwide. Nova's collections of LifeStyle furniture brands include Diamond Sofa (www.diamondsofa.com), Colorful World, Giorgio Mobili and others. Nova's products feature urban contemporary styles with comfort and functionality and upscale luxury designs appealing to LifeStyle-conscious middle and upper middle-income consumers in the U.S., China, Europe and elsewhere in the world. To learn more about Nova LifeStyle, Inc., please visit www.novaLifeStyle.com.

Safe Harbor Statement

All statements in this press release that are not historical are forward-looking statements made pursuant to the "safe harbor" provisions of the Private Securities Litigation Reform Act of 1995. There can be no assurance that actual results will not differ from the company's expectations. You are cautioned not to place undue reliance on any forward-looking statements in this press release as they reflect Nova's current expectations with respect to future events and are subject to risks and uncertainties that may cause actual results to differ materially from those contemplated. Potential risks and uncertainties include, but are not limited to, the risks described in Nova's filings with the Securities and Exchange Commission.



NOVA LIFESTYLE, INC. AND SUBSIDIARIES CONDENSED CONSOLIDATED STATEMENTS OF INCOME AND COMPREHENSIVE INCOME (UNAUDITED) Six Months Ended June 30, Three Months Ended June 30, ------------------------- --------------------------- 2012 2011 2012 2011 ----------- ----------- ----------- ------------- (Unaudited) (Unaudited) ------------------------- ---------------------------Net Sales(Including sales to related party of $0 and $625,582 during the six months ended June 30, 2012 and 2011; and $0 and $261,180 during the three months ended June 30, 2012 and 2011, respectively) $27,146,315 $14,892,220 $16,147,061 $ 9,259,430Cost of Sales 20,320,386 10,650,433 12,331,407 6,806,804 ----------- ----------- ----------- -------------Gross Profit 6,825,929 4,241,787 3,815,654 2,452,626 ----------- ----------- ----------- -------------Operating Expenses Selling expenses 1,354,553 795,109 664,646 574,633 General and administrative expenses 2,360,913 1,416,998 1,309,698 1,090,445 Loss on disposal of plant, property and equipment 123,775 -- -- -- ----------- ----------- ----------- -------------Total Operating Expenses 3,839,241 2,212,107 1,974,344 1,665,078 ----------- ----------- ----------- -------------Income From Operations 2,986,688 2,029,680 1,841,310 787,548 ----------- ----------- ----------- -------------Other Income (Expenses) Non-operating income (expense) (23,039) 10,474 (25,338) 5,512 Foreign exchange transaction gain (loss) 23,975 (60,729) 15,663 (37,531) Financial expense (46,898) (16,322) (36,086) (6,933) ----------- ----------- ----------- -------------Total Other Expenses, Net (45,962) (66,577) (45,761) (38,952) ----------- ----------- ----------- -------------Income Before Income Tax 2,940,726 1,963,103 1,795,549 748,596Income Tax Expense 537,104 378,035 370,589 169,070 ----------- ----------- ----------- -------------Net Income 2,403,622 1,585,068 1,424,960 579,526Other Comprehensive Income Foreign currency translation (49,085) 235,985 (61,930) 131,511 ----------- ----------- ----------- -------------Comprehensive Income $ 2,354,537 $ 1,821,053 $ 1,363,030 $ 711,037 ----------- ----------- ----------- -------------Basic weighted average shares outstanding 18,431,799 11,788,314 18,486,567 11,952,747 ----------- ----------- ----------- -------------Diluted weighted average shares outstanding 18,589,410 11,788,314 18,491,138 11,952,747 ----------- ----------- ----------- -------------Basic net earnings per share $ 0.13 $ 0.13 $ 0.08 $ 0.05 =========== =========== =========== =============Diluted net earnings per share $ 0.13 $ 0.13 $ 0.08 $ 0.05 =========== =========== =========== ============= NOVA LIFESTYLE, INC. AND SUBSIDIARIES CONDENSED CONSOLIDATED BALANCE SHEETS JUNE 30, 2012 (UNAUDITED) AND DECEMBER 31, 2011 June 30, December 31, 2012 2011 ------------ ------------ (Unaudited)Liabilities and Stockholders' EquityCurrent Liabilities Accounts payable $ 3,339,981 $ 6,758,058 Line of credit 3,495,140 -- Advance from customers 90,755 91,021 Accrued liabilities and other payables 825,303 834,128 Taxes payable 426,620 198,984 ------------ ------------Total Current Liabilities 8,177,799 7,882,191 ------------ ------------Noncurrent Liabilities Deferred rent payable 48,792 58,949 Income tax payable 4,215,859 4,016,266 ------------ ------------Total Noncurrent Liabilities 4,264,651 4,075,215 ------------ ------------Total Liabilities 12,442,450 11,957,406 ------------ ------------Contingencies and CommitmentsStockholders' Equity Common stock, $0.001 par value; 75,000,000 shares authorized, 18,486,567 and 17,898,267 shares issued and outstanding as of June 30, 2012 and December 31, 2011, respectively 18,487 17,898 Additional paid-in capital 18,970,395 17,074,535 Subscription receivable (1,950,000) (1,950,000) Statutory reserves 6,241 6,241 Accumulated other comprehensive income 2,089,889 2,138,974 Retained earnings 7,976,058 5,572,436 ------------ ------------Total Stockholders' Equity 27,111,070 22,860,084 ------------ ------------Total Liabilities and Stockholders' Equity $ 39,553,520 $ 34,817,490 ============ ============ NOVA LIFESTYLE, INC. AND SUBSIDIARIES CONDENSED CONSOLIDATED BALANCE SHEETS JUNE 30, 2012 (UNAUDITED) AND DECEMBER 31, 2011 June 30, December 31, 2012 2011 ----------- ------------ (Unaudited)AssetsCurrent Assets Cash and cash equivalents $ 2,136,562 $ 2,505,179 Accounts receivable, net 22,162,058 18,974,612 Accounts receivable - related party -- 28,289 Due from factor -- 203,351 Advance to suppliers 1,123,472 349,767 Inventories 2,325,080 1,848,081 Prepaid expenses and other receivable 302,468 113,853 Deferred tax asset 156,514 156,974 ----------- ------------Total Current Assets 28,206,154 24,180,106 ----------- ------------Noncurrent Assets Heritage and cultural assets 128,199 128,687 Plant, property and equipment, net 8,668,266 8,721,186 Construction in progress 978,224 91,466 Construction deposit -- 634,830 Goodwill 218,606 218,606 Intangible assets, net 1,235,900 724,465 Deferred tax asset, net 118,171 118,144 ----------- ------------Total Noncurrent Assets 11,347,366 10,637,384 ----------- ------------Total Assets $39,553,520 $ 34,817,490 =========== ============


Contacts:

Corporate Contact:

Tawny Lam
President
Nova LifeStyle, Inc.
Tel: (323) 888-9999
Email: info@novalifeStyle.com
www.diamondsofa.com

IR and Press:

Ken Donenfeld
DGI Investor Relations, Inc.
Tel: (212) 425-5700
Email: kdonenfeld@dgiir.com