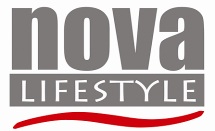 COMMERCE, CA -- (Marketwire) -- 08/14/12 -- Nova LifeStyle, Inc. (OTCQB: STVS) (OTCBB: STVS) (website: www.novalifestyle.com), a rapidly growing U.S. based designer, manufacturer and global distributor of urban contemporary furniture, today reported its continuing aggressive worldwide expansion generated record results in the second quarter and six months ended June 30, 2012.

Sales in the second quarter grew 74% to $16.15 million, up from $9.26 million in the same period last year, on a 15% increase in sales volume and an approximately 53% increase in average selling price. Net income increased 146% to $1.42 million compared with $0.58 million in the prior year period. Through the first half of 2012, sales were up 82% to $27.15 million, from $14.89 million a year earlier, on a 12% increase in sales volume and an approximately 62% increase in average selling prices. Net income in the first six months of 2012 grew to $2.40 million, up 11% from $1.59 million in the comparable period in 2011.

On a per share basis, 2012 second quarter diluted EPS was $0.08 compared with $0.05 in the same period last year, while 2012 first half diluted EPS was $0.13, compared with $0.13 in the prior year period. Diluted weighted average shares outstanding in last year's second quarter and first half respectively were 11,952,747 and 11,788,314 shares. In the second quarter and first half this year they increased to 18,491,138 and 18,589,410 shares respectively. The increase primarily is a consequence of two successful private placements completed in late 2011 and early 2012 which netted the Company a combined $5.61 million to finance further growth.

U.S. Led Growth

Mr. Jeffrey Wong, CEO, Chairman and Co-Founder of the Company, commented, "In the short time since we have been a public company, following our acquisition of Diamond Sofa in the U.S. in 2011, our progress has been dramatic, setting the stage for continuing strong, balanced global growth. Thus far, our growth has been led by our outstanding performance in the North American market, which produced a year over year sales gain in the second quarter of 129%, to $5.74 million, bolstered by increasing Internet sales and growing penetration of our target 'Top 100' furniture retailers and distributors."

Strong Global Growth As Well

Company President, and Co-Founder of Diamond Sofa, Ms. Tawny Lam, added, "We also have been focused on expanding direct sales of our branded furniture lines in China where year over year sales in the quarter grew 69%, to $4.85 million and we expanded our independently owned furniture franchise stores to more than 100 locations throughout the country. Starting in 2013, this will be complemented by an anticipated major boost in our OEM sales from our recently announced manufacturing agreement with IKEA. Further, in the quarter we saw a 34% sales increase in Europe, to $4.24 million, where despite a tougher economic environment, lifestyle conscious consumers remain highly attracted to the look, feel and perceived value of our urban contemporary furniture lines."