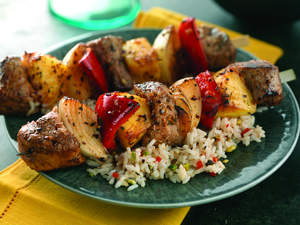 Caribbean Pork Kabobs


MISSION, KS -- (Marketwire) -- 07/26/12 -- (Family Features) Love cooking on the grill, but want to do more than basic burgers and the same-old barbecue chicken? Try cooking up some delicious grilled dishes with great tasting, all-natural Mrs. Dash® -- you might be surprised how easy it is to add big flavor, without adding salt to your grilling favorites.

Mrs. Dash bold seasonings and zesty marinades are just some of the ways you can spice up burgers, chicken and vegetables on the grill. The unique herb and spice combinations transform an ordinary cookout into something to brag about.

For more mouthwatering grilling recipes, visit www.mrsdash.com.



Caribbean Pork KabobsServes: 9Prep Time: 15 minutesCooking Time: 10 to 15 minutes                              1/2    cup pineapple juice                              3      tablespoons Mrs. Dash® Caribbean Citrus                                     Seasoning Blend, divided                              1      pound pork tenderloin, cut into small                                     cubes                              1      sweet onion, cut into cubes                              1      red bell pepper, cut into cubes                              1/2    fresh pineapple, peeled, cut into cubes
Mix pineapple juice and 2 tablespoons seasoning blend in a small bowl.
Pour 3/8 cup (6 tablespoons) of the pineapple juice mixture over the pork in a separate bowl and the remaining over the vegetables. Stir to coat evenly.
Cover and refrigerate for about 1 hour.
Thread pork pieces onto 9 skewers, alternating with onion, pepper and pineapple cubes. Sprinkle on remaining 1 tablespoon seasoning blend.
Grill or broil for 10 to 15 minutes or until pork is thoroughly cooked.
Chipotle Burgers with Spicy OnionsServes: 4Prep Time: 10 minutesCooking Time: 20 minutes                              1      teaspoon olive oil                              1      large red onion, peeled and thinly                                     sliced                              2      tablespoons Mrs. Dash® Southwest                                     Chipotle Seasoning Blend, divided                              1      pound extra lean ground beef                              1/4    cup fresh cilantro, chopped                              2      egg whites, or egg substitute                                     equivalent to 1 egg                              4      toasted hamburger buns                                     Sliced tomatoes, optional                                     Lettuce, optional
Heat oil in large non-stick skillet, add onion and cook until golden and tender, about 10 minutes. Stir in 1 tablespoon seasoning blend, mix thoroughly and remove from heat.
Gently mix ground beef, 1 tablespoon seasoning blend, cilantro, and egg whites or egg substitute. Mix well, and shape into 4 burgers.