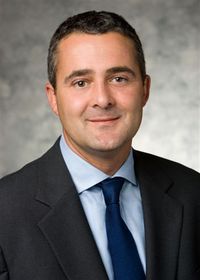 Jonathan Fitzpatrick, new Driven Brands President & CEO



CHARLOTTE, NC -- (Marketwire) -- 06/29/12 -- Driven Brands, Inc. announced today that it has appointed Jonathan Fitzpatrick (42) as the company's new President and CEO. He succeeds Kenneth D. Walker (64), who is retiring July 6th. Driven Brands is the parent of Maaco Collision Repair & Auto Painting, Meineke Car Care Centers, Econo Lube N' Tune, AutoQual, Aero Colours, Drive N Style, and Tortal.net.

Fitzpatrick brings more than 15 years of experience in franchising and global operations, most recently as EVP Chief Brand and Operations officer of Burger King, where he has worked since 2005.

"We are pleased to welcome Jonathan as the new CEO of Driven Brands. He is an accomplished executive whose experience and expertise at building global businesses will be invaluable to the continued success of this dynamic company," said Ira D. Kleinman, Senior Managing Director of Harvest Partners, the private equity firm that acquired Driven Brands in December 2011.

As Executive Vice President, Chief Brand & Operations Officer at Burger King for the past two years, Fitzpatrick led a whirlwind of activity including: the biggest equipment and menu overhaul in the brand's history, the development of new operational tools, and notable unit expansion that impacted operating and financial performance at the fast food franchising giant in 2011. He has held a variety of senior executive positions within Burger King covering a wide array of responsibilities ranging from head of Central European Operations and SVP of Franchise Development in North America to VP of Information Technology. Fitzpatrick holds both Bachelor's and Graduate degrees from the University College Dublin, Ireland.

Commenting on his appointment, incoming President and CEO Jonathan Fitzpatrick said, "Driven Brands is a great company made up of established brands and committed franchisees. I am looking forward to building upon all the success and championing new approaches to drive sustainable and profitable growth both domestically and in the largely untapped international markets."

"We also thank Ken for his contributions and commitment, and we wish him well in his retirement," said Ira D. Kleinman, Senior Managing Director of Harvest Partners.

Mr. Walker, retiring Driven Brands Chairman & CEO, said, "After 16 exciting and wonderfully fulfilling years leading first Meineke then Driven Brands, there comes a time for the next stage in both an individual's as well as a company's life." Walker added, "It is with a great deal of pride that I leave a very successful organization to a new dynamic leader in Jonathan Fitzpatrick. Jonathan's vision combined with the passion of the entire management team and its real heroes, the franchisees, will further strengthen Driven Brands' leadership position in the automotive aftermarket."

About Harvest Partners
Founded in 1981, Harvest Partners, LP (www.harvpart.com) is a leading New York-based private equity investment firm pursuing management buyouts and growth financings. Harvest focuses on acquiring profitable companies in the business services, manufacturing and distribution, industrial services, midstream energy and consumer products and retail sectors. This strategy leverages Harvest's over 30 years of experience in financing organic and acquisition-oriented growth companies.