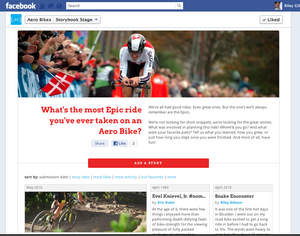 Aero Bikes is a Fictional Example of the Napkin Labs Storybook App.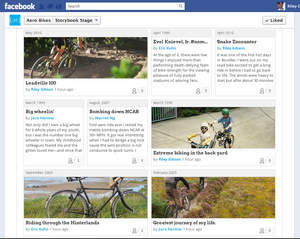 The Napkin Labs Storybook App Lets Fans Tell Personal Stories About a Brand.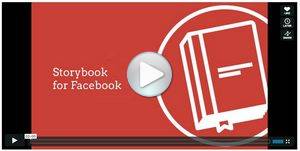 Storybook lets fans tell a great story about your business, products, or brand. Engage on a deeper level with fans to hear about their most memorable moments and connections with your company. By adding pictures, locations, and dates around a story, Storybook provides a dynamic stream of images and text stories that fans can scroll through, read, comment, share, and like.


BOULDER, CO -- (Marketwire) -- 06/28/12 -- Napkin Labs knows that great brands are great storytellers. Stories evoke emotion and become the focal point of a brand's message, letting customers hone in on a connection, rather than the company as a whole. But it can be difficult for brands to collect and feature these stories all in one place. Today, Napkin Labs announces Storybook, a Facebook app that lets brands crowdsource a collection of stories that come directly from each fan's point-of-view.

Facebook gives brands access to a generation of consumers who like to share what they love. Storybook helps brands connect with customers by letting them tell authentic brand stories in their own voice. With Storybook, fans tell their story in a beautifully visual way, adding photos and text, as well as dates and locations to help place stories on Facebook's Timeline. Napkin Labs started its app suite with Brainstorm, which crowdsources fans' ideas and insights around a specific outcome (such as, "Help us design our new uniform"). Storybook extends a brand's reach by assembling fans' personal experiences and allowing a brand to own and moderate what's shared. A fictional example we created asked fans, "What's the most epic ride you've ever taken on an Aero Bike?"

"This app is for the fans," said Riley Gibson, CEO of Napkin Labs. "For brands, creating content is a treadmill that can be difficult to keep up with. But, they have fans who can tell authentic life stories that inspire, engage and influence others. We created Storybook to let fans claim their voice within a brand, and what's really sweet is that we got the idea for the app from one of our own fans!"

The idea for Storybook came from the member of a Napkin Labs Brainstorm, Ali Lamb. Ali thought it would be cool to share a mini journal of all the interesting places she hiked, from the perspective of her Nike sneakers. Knowing that Ali's stories about climbing the Eiffel Tower and a mountain could easily be lost in a sea of updates on Nike's Facebook Timeline, Napkin Labs created Storybook as a destination to feature these stories.

Storybook, and Napkin Labs' entire app suite are free to try for 30 days. After the free trial, the app suite is available through a monthly subscription, with plans starting at $20 for Facebook pages with up to 20,000 fans.

About Napkin Labs
Napkin Labs helps companies uncover the creativity and passion of their fans. Brands and agencies around the world use our tools to crowdsource great content, discover new insights, and engage their real fans. Learn more at napkinlabs.com.



Image Available: http://www2.marketwire.com/mw/frame_mw?attachid=2026257
Image Available: http://www2.marketwire.com/mw/frame_mw?attachid=2026260
Video-Link Available: http://www2.marketwire.com/mw/frame_mw?attachid=2026315


Add to Digg Bookmark with del.icio.us Add to Newsvine



CONTACT:
LaunchSquad for Napkin Labs
Anna Farnum or Kevin Leahy
(617) 945-1915
napkinlabs [at] launchsquad [dot] com