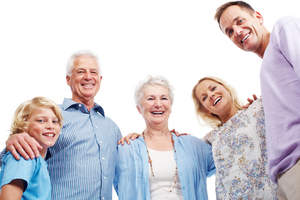 Family reunions are a great time to find out your family history of eye disease.



SAN FRANCISCO, CA -- (Marketwire) -- 06/25/12 -- Many people are unaware that eye diseases such as age-related macular degeneration and glaucoma can run in families. Having a family history of these diseases can significantly increase a person's risk for developing them. In fact, people who have a family member with glaucoma are four to nine times more likely to be stricken by this leading cause of blindness.(1)

Being armed with your family medical history is a key component in preventing vision loss from genetic eye disease. That's why the American Academy of Ophthalmology and EyeCare America, a public service program of the Foundation of the American Academy of Ophthalmology, encourage all Americans to discuss their eye health history with family members. Family reunions and other summer gatherings offer a great opportunity to share this important information.

"Many people don't know if eye diseases run in their family," said Richard P. Mills, M.D., M.P.H., chairman of EyeCare America. "Family gatherings are a great time to find out if eye diseases run in your family. Having this valuable information can help you and your ophthalmologist -- an eye medical doctor who specializes in eye care and surgery -- to take the appropriate steps to minimize your risk and save your sight."

The Academy and EyeCare America encourage people to take the following steps during family visits:

1. Ask family members if they have an eye disease.
2. Tell family members of any eye disease you have yourself.
3. Go to www.eyecareamerica.org to see if you or your family members qualify for a free eye exam, and then share any family history of eye disease with your ophthalmologist.

Along with knowing family history of eye disease, eye exams are a critical tool to catch eye diseases early and prevent vision loss. To ensure that high-risk communities, including people with a family history of eye disease, African-Americans, Hispanics and those ages 65 and older, have access to sight-saving eye exams and care, EyeCare America offers free or no-out-of-pocket cost eye exams to qualifying individuals. The organization matches eligible patients with an ophthalmologist in their area who will provide a comprehensive eye examination. In some cases, patients may also receive up to one year of care at no out-of-pocket cost. EyeCare America is made possible through the generous support of the Knights Templar Foundation, Genentech and Alcon.