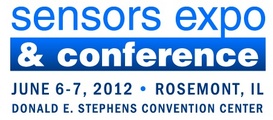 NEWTON, MA -- (Marketwire) -- 06/18/12 -- Over 4,000 engineers, scientists and industry professionals from around the world gathered at the Donald E. Stephens Convention Center in Rosemont, IL June 6-7, for the Sensors Expo & Conference, the leading event in North America focused exclusively on sensors and sensor-integrated systems.

"Following the inspirational opening-day keynote by SENSEable City Laboratory Associate Director Assaf Biderman, the content delivered in the conference sessions was compelling and very well attended, meanwhile there was such positive energy on the Expo floor," said Wendy Loew, Event Director. "The show floor was buzzing with excitement as attendees travelled to exhibitors' booths to see the latest in sensing advancements."

During the opening-day keynote presentation, Assaf Biderman presented on the role sensors and other data capturing methods can play in making new connections between people and the built environment as a way to address some of today's urban challenges. The presentation was well received by a standing room only crowd, who left with a new view of how the human-computer-city interface can be monitored and used to make smarter decisions and open avenues of innovation to improve environmental impact, energy consumption, transportation and other urban challenges. "The infrastructure that services us, our cars and our buildings is going to become increasingly computationally capable," said Assaf Biderman, Associate Director of MIT's SENSEable City Laboratory. "They're going to be connected, that means there's some sort of digital layer that's weaving its way into the world we're living in."

On Thursday morning, Willard Tu, Director of Embedded, ARM, spoke about trends in Sensors, Networks, and Software as the catalysts that will bring about "the Internet of Things." Tu said, "In order to be prepared for this next industrial evolution we must learn how to harmonize these three catalysts so that 50 billion 'Things' will be relevant to the humans that interact with them."

Sensors offered three Pre-Conference symposia on June 5 with full-day sessions focused on MEMS in the Mainstream: Commercialization and Product Realization-Leveraging the MEMS Infrastructure chaired by MEMS Industry Group; Energy Harvesting for Powering Sensors chaired by Randy Frank & Associates; and Smart Sensors Systems Design chaired by International Frequency Sensor Association. The full conference program offered over 60 sessions broken down into nine tracks on the following topics: Energy Harvesting, Wireless Sensing, MEMS, Sensor and System Design, Measurement & Detection, Big Data & Analytics, Mobile Sensing, Applied Sensors, and RFID/M2M.

On the Expo floor, there were over 150 exhibiting companies, and the overall consensus from the exhibitors was that the event attracted a very strong and qualified audience of sensing technology buyers. Many of the exhibitors and attendees utilized the first ever Sensors Expo Mobile App, introduced by Sensors Expo & Conference in conjunction with mTribeApps. The Mobile App provided a great pre-show planning and on-site navigational tool, and will keep exhibitors and attendees in contact long after the Expo has ended.