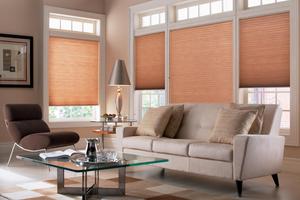 Pleated Shades flatter any shape from standard window dimensions to arches, angles and skylights.



ORANGE, CA -- (Marketwire) -- 06/18/12 -- The summer solstice on June 20th not only marks the longest day of the year, but also the harbinger of what is expected to be one of the hottest summers on record for most of the country. Last year's summer was the fourth warmest on record in Canada and this year's is gearing up to be even hotter than last year according to the AccuWeather summer forecast recently released. Budget Blinds® is offering free tips to beat the heat and free swatches to help you pick out the perfect window coverings for your home that will help you stay cool and save money to boot!

"Summers have been getting progressively warmer across Canada and this summer does not seem to be any exception," said AccuWeather senior meteorologist Brett Anderson. The private US weather service uses computer models, current and past conditions, and other methods to help predict the weather in June, July and August.

To beat the heat this summer, Budget Blinds® has gathered some tips to help you stay cool and relaxed during a blistering summer

•Loose-fitting, especially cotton, clothing will keep you cooler than most synthetics •Small battery powered fans with a mister that clip onto a belt buckle are perfect for a quick spritz (store in the refrigerator for an added chill) •Take short baths or showers with cool or tepid water •Keep bottles of water in the freezer; grab one when you're ready to go outside. As the ice melts, you'll have a supply of cold water with you to drink or pour inside your hat or over your head to cool you down •Try storing lotions or Aloe Vera in the refrigerator to use on hot, scorched skin •Fans help circulate air and make you feel cooler even in an air-conditioned house

Updating your window treatments is a great way to heatproof your house in the summer and save you money all year long. Replacing your window coverings has never been easier with the new Budget Blinds® Swatch Program that allows you to choose up to 10 different sample squares to test out in your home before buying a full set! Swatches are available from Budgetblinds.ca and come in the most popular colors and styles for both blinds and shades.