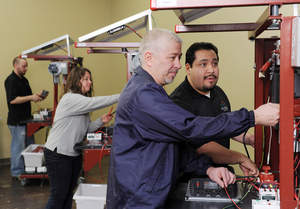 Ecotech students in a cutting-edge solar lab.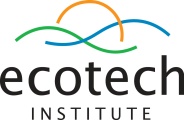 DENVER, CO -- (Marketwire) -- 06/14/12 -- Ecotech Institute, the first and only college entirely focused on preparing America's workforce for careers in clean technology and sustainability, will hold its first graduation on Thursday, June 21, 2012. Forty-two students will receive their associate's degrees, which prepares them for a career in the clean technology industry. The graduates will receive degrees in the following areas: Wind Energy Technology, Solar Energy Technology, technology-schools.cfm">Renewable Energy Technology and Electrical Engineering Technology. Former Governor Bill Ritter, who currently serves as the Director of the Colorado State University Center for the New Energy Economy, will deliver the commencement speech at the graduation.

"As Governor, I was proud when Ecotech Institute chose Colorado as the place to locate the country's first private technical institute devoted solely to preparing the workforce for the clean energy economy," said Bill Ritter, Former Colorado Governor and current Director of the Colorado State University Center for the New Energy Economy. "It is a privilege to play a role in Ecotech's first commencement, and to see the efforts of the staff and faculty come to fruition."

Students in this first graduating class began classes in a temporary facility in June 2010 as Ecotech completed an overhaul of an existing vacant building. In January 2011, they moved to the current LEED gold-certified campus in Aurora, Colorado. Today, Ecotech has more than 500 students and continues to grow.

"This initial group of students are visionaries, as they signed up for classes before they were able to see the beautiful campus and cutting-edge labs," said Mike Seifert, president of Ecotech Institute. "Now, a variety of clean tech companies are offering them excellent positions and their forward-thinking commitment is paying off. We applaud each of them and look forward to watching their success."

At Ecotech all students develop soft skills (communication, workplace etiquette), and math and science basics and technology skills, but the educational emphasis is on hands-on, practical training. Ecotech's prestigious national board of advisors, who all work in clean tech industries, helped design the school's curriculum, providing coursework that reflects what the students will experience upon graduation. For a demographic breakdown of this first graduating class, please visit http://www.ecotechinstitute.com/pdf/ecotech-graduate-information.pdf.