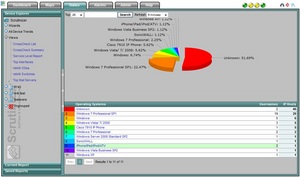 Scrutinizer NetFlow analytic reporting on Enterasys Mobile IAM allows IT staff new visibility over personal mobile-based devices using corporate networks for Internet access.




SANFORD, ME -- (Marketwire) -- 05/31/12 -- Plixer International, Inc., a leading provider of NetFlow-based network traffic reporting, and Enterasys Networks today announced a joint webcast titled, "Secure BYOD and Monitor its Traffic for Abuse and Threats." The complimentary events will be held on Tuesday, June 5th at 9AM and 2PM and convey new insight on improving mobile device management by allowing IT staff to identify smartphone and tablet users by name and specific device type as well as application interaction and potential security threats.

Michael Patterson, Plixer's CEO, joins Ali Kafel, Director of Product Marketing at Enterasys, to discuss how their proven solutions work together to deliver new visibility and control over personal Android, Apple and Blackberry-based devices using corporate networks for Internet access. Additionally, webcast attendees will gain insight about:

•BYOD capabilities and requirements that successful enterprises are applying today •Bandwidth consumption by mobile device type (e.g. iPhone, Android, etc.) and per switch •Number of mobile devices, operating systems and specific users connecting to the network •How to enhance mobile device security on the network

"From a network perspective, there is very little difference between a smartphone accessing a website and a PC. However, IT administrators need to delineate the bandwidth consumption because most mobile device traffic is unsecured personal usage," Patterson said. "Our webcast will show administrators how to break out mobile devices by operating system, username or IP address and group them by any combination using Enterasys' Mobile IAM BYOD Solution and Plixer's NetFlow exports."