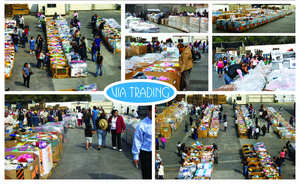 More than 200 bargain hunters are expected to bid for rock bottom deals on high end goods at Via Trading's wholesale liquidation auction Thursday, April 5 at 11 a.m.


LYNWOOD, CA -- (Marketwire) -- 04/04/12 -- Made popular by television shows like "Storage Wars," buying bulk lots of wholesale goods to resell for profit has become an entrepreneurial craze over the last two years, with auction hunters striving to find the best deals nationwide. Via Trading, a wholesale liquidation company in Los Angeles, provides a spinoff on these hard-to-find storage unit auctions and supplies liquidation merchandise to thousands of auction hunters, individuals and businesses with rock-bottom pricing on wholesale liquidation goods at their live monthly auctions.

Already, bargain hunters are signing up for Via Trading's April 5 auction, scheduled to take place at 11 a.m. at the company's facilities at 2520 Industry Way in Lynwood, Calif. More than 200 bidders are expected to compete in the auction, which features a wide variety of liquidated goods from department and specialty retailers.

"The majority of bids open at $1 and wholesale lots can sell for anywhere from $1 to $1,000 depending on the merchandise and demand," explained Nathania Stambouli, marketing manager of Via Trading. "We've had bidders leave our auction with an entire pallet of flat screen TVs for $250. The resale value on that is huge."

Among other items that can be found at Via Trading's wholesale liquidation auctions are video game consoles and accessories, DVD and Blu-Ray players, assorted electronics, household appliances, tools and hardware, clothing, health & beauty aids and furniture, and much more.

One week prior to each auction, Via Trading provides a listing of all the auction lots with manifests on dozens of the lots, including original retail values, which allows buyers to make educated purchasing decisions. Buyers know ahead of time what they are bidding on, and are given the time to research pricing of the items to determine their highest desired bid. All items are available to be inspected and previewed in person 24 hours prior to the auction and up to 11 a.m. on the day of the auction.

"This is a big departure from storage unit auctions, which are totally blind because the bidder has no idea what they're getting," added Stambouli. "We want our bidders to know what they're buying, where it came from and to have an educated guess at what kind of a profit they might expect from their purchase. A lot of successful businesses have been started by struggling individuals who have come to these auctions looking for a bargain."