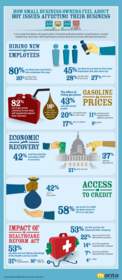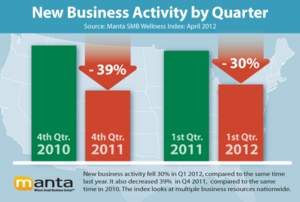 COLUMBUS, OH -- (Marketwire) -- 04/24/12 -- Small business owners were planning to hire at this time last year, but the majority (80 percent) haven't hired a single employee the first three months of 2012.

In addition, the survey found that more than half of small businesses (53 percent) say they are not taking advantage of the Patient Protection and Affordable Care Act healthcare tax credit, which became available in 2010 for small businesses with fewer than 25 full-time employees. In fact, education may be needed in the business community as one in three don't understand it.

Rising gas prices may be having a disproportionate impact on small businesses and creating the decrease in business activity. A significant majority of respondents (82 percent) say gas prices will negatively impact their business if they continue to rise -- 43 percent say gas prices have eaten into profits, 20 percent say they had to raise prices to cover those costs and 11 percent say gas prices impacted their ability to grow and hire. In addition, Manta's survey found nearly 60 percent of small businesses say access to credit and loans has been worse in 2012 compared to last year. Finally, nearly one-third say they owed more in taxes this year.

Other findings:

•What Healthcare? Nearly one in four SMBs say they aren't sure how the Patient Protection and Affordable Care Act, has or will affect their business. Half say it hasn't impacted their company and 14 percent say it's had a negative impact. •Who's Hiring? Almost half of small businesses (45 percent) do not plan to hire more people this year than they did last year, but one third say it's too early to tell. •Not Quite an Economic Recovery: Close to half of small businesses (42 percent) feel the economy is not in recovery and 21 percent aren't sure. •Complicated Finances: More than four in 10 small business owners say taxes are more complicated for their company this year compared to previous years. Thirty-one percent say they owed more in taxes this year than last year.

According to the latest Manta SMB Wellness Index, new business activity fell 30 percent in the first quarter of 2012, compared to the same time last year. The index looks at multiple business resources nationwide and takes the "pulse" of small business owners on hot topics.

The Manta SMB Wellness Index also shows that while new business activity is down year over year, the fourth quarter of 2011 decreased even more -- 39 percent -- compared to the same time in 2010. While activity is down, small business owners aren't letting factors they can't control -- like the unstable economy or presidential election -- stand in the way of building their business in new ways.