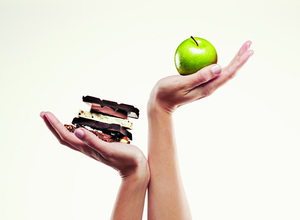 Photo courtesy of Getty


MISSION, KS -- (Marketwire) -- 04/10/12 -- (Family Features) When was the last time you ate three meals in a day? What was the last snack you had? If you can answer the snack question faster than you can answer the meals question, it's not surprising.

Today's on-the-go, 24/7 lifestyle has created a nation of snackers. In fact, about half the nation eats fewer than three meals in a day, according to a survey for Emerald® Breakfast on the go!™ Blends. Instead, people average two meals and three snacks in a 24-hour period. And no matter how health-conscious people are, more than two-thirds (69 percent) of people are snacking on what they want vs. foods with the nutrients they need.

The good news is, that if you do it right, snacking can help you satisfy your cravings and give your body what it needs.

Snack Attacks
Snacks can help boost your energy in between meals and keep you from eating too much when you do sit down for those meals. But not everyone is snacking wisely. Nearly half (48 percent) of those surveyed said they would be more embarrassed to tell people what they snacked on during the last week than reveal how much they weigh.

Banishing enjoyable snacks altogether, however, may just increase your cravings.

The Academy of Nutrition and Dietetics says it's ok to give in to cravings when looking at the total diet or overall pattern of food eaten. The organization says all foods can fit into a healthy eating pattern if consumed in moderation with appropriate portion size and regular physical activity.

Making some smart substitutions and indulging in the occasional treat can go a long way toward helping you stick to your healthy eating goals. (See sidebar, "What are you hungry for?" for substitution tips.)

Become a Fan of Fruit
The Academy of Nutrition and Dietetics says that reaching for fruit can help satisfy a sweet tooth at the same time it gives you nutrients like vitamins A and C, folate, potassium, fiber and phytonutrients. Here are some delicious fruit snack ideas:

•Fruit pops: Freeze pureed fruit or juice in ice cube trays or paper cups with wooden sticks. Try mango, papaya, apricots or orange juice.•Fruit mix: Mix dried fruits in a zip-top bag: apple slices, apricots, blueberries, cherries, cranberries, pear slices and raisins.•Frozen chips: Slice bananas, seedless grapes, and/or berries into thin rounds and spread them flat on a baking pan and cover. Freeze and serve frozen as a fun snack.•Frugurt: Slice favorite fruits to top low-fat yogurt.

Mix Things Up
Combining the craving food with a wholesome one is a great solution says the Academy of Nutrition and Dietetics. For example, if you crave sweets, a banana dipped in chocolate sauce or almonds mixed with chocolate chips are good options.

As a beneficial bonus, you'll satisfy a craving and get positive nutrients from those good-for-you foods. If you're a chocolate lover, try Emerald Breakfast on the go! S'mores Nut Blend. Cocoa roasted almonds, honey roasted peanuts and granola give you some energy, protein and fiber while you also enjoy the sweetness of chocolate, marshmallows and coconut.