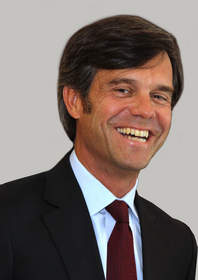 Luis Mirabelli, vice president of development for Latin America, Wyndham Hotel Group



PARSIPPANY, NJ -- (Marketwire) -- 12/06/12 -- In support of its steadfast commitment to further expand its hotel offerings in Latin America as the region continues to experience strong economic growth and development opportunities, Wyndham Hotel Group, the world's largest hotel company with nearly 7,260 hotels and part of Wyndham Worldwide Corporation (NYSE: WYN), today announced the appointment of Luis Mirabelli as vice president of development for Latin America, effective Jan. 1, 2013.

In this newly created role, Mirabelli will be responsible for leading Wyndham Hotel Group's development efforts in the region, including executing strategic deals in key markets, establishing and maintaining a strong network of multi-unit development partners and strengthening synergies between Wyndham Hotel Group and sister company RCI to help further growth in the region. He will be based in Buenos Aires, Argentina.

Mirabelli joins Wyndham Hotel Group from RCI Latin America, where he served as vice president of business development for South America. There, he focused on the development of the shared ownership industry and business alliances in South America, including expanding affiliated resort and new member bases, increasing new member acquisition and helping create and grow the South American Shared Ownership Investment Conference (SASOIC), an annual event for the shared ownership industry in Latin America.

"We are thrilled to welcome Luis to the Wyndham Hotel Group family," said Daniel del Olmo, Wyndham Hotel Group's senior vice president and managing director, Latin America. "His extensive experience, unrivaled passion and strong relationships in the region will be integral in helping us drive development and grow our portfolio of hotel brands in Latin America's thriving markets."

Wyndham Hotel Group is strategically expanding its footprint in the region, focusing its efforts in key countries including Mexico, Brazil, Colombia, Peru and Panama. The company recently announced the addition of its 100th hotel to its regional portfolio.

Wyndham Hotel Group reached this important milestone, in part, by developing strategic relationships with existing portfolios and established national hotel companies in Latin America. Earlier this year, the company announced an agreement with Hoteles Costa del Sol to franchise three new Ramada hotels throughout Peru in Cusco, Tumbes and Chiclayo.

The company also has agreements with two Brazilian-based real estate companies, EmCorp and Vert, to build and open additional Wyndham Hotel Group properties in the region. EmCorp has 25 properties in the pipeline, including three Super 8® properties that are scheduled to break ground before the end of this year. Agreements entered into with Vert call for nine new hotels, which include two recently-opened Ramada properties in Sao Paulo and Rio de Janeiro, Brazil.