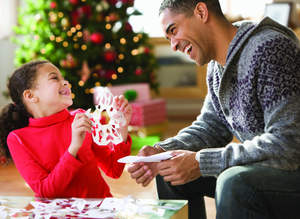 Photo courtesy of Getty Images


MISSION, KS -- (Marketwire) -- 12/06/12 -- (Family Features) Whether you're looking to fill the family calendar with fun holiday activities or need a few ideas to make the season more meaningful, this guide to family holiday fun has you covered.

"Whether it's finding a great gingerbread cookie recipe and biting one arm off each one (like we do), or just making cards for the family, it's lovely to give your kids something uniquely their own to look forward to each year," said Liz Gumbinner of Cool Mom Picks.

Here are some A to Z ideas to get you started today:

A
- Start a calendar to build anticipation for all holiday celebrations. You can buy one or make one, and it can be as simple or as fancy as you like.
- Make angels -- snow angels, construction paper angels, angel ornaments or even angel food cake.

B
- Make bird feeders out of empty milk jugs or small cardboard tubes rolled in peanut butter and birdseed.
- Host a book exchange with friends, where everyone trades books they own and have already read.

C
- Gather some friends and go caroling around the neighborhood or at a retirement center.
- Cook something new. You can find plenty of new dishes with Bing, which lets you quickly find full recipes and reviews right on the search page; and that lets you spend less time searching and more time cooking up some delicious fun with the whole family.

D
- Have a family dance party. Turn up the tunes or pop in the dance video game and cut loose together.
- Drive around town and take in the holiday lights and sights. Plan your route ahead of time, and end the trip with a special treat like hot cider at your favorite spot.

E
- "Elf" your neighbors. Put together small treat bags with gift tags that say "You've Been Elfed!" Then leave them as a secret surprise in their mailboxes or hanging from the front door.

F
- Make time for friends. The kids, especially teens, will appreciate getting to hang out with their buddies. If you're hosting, make sure you have plenty of fun snack foods.

G
- Have some fun with family game nights. Let everyone take turns picking their favorite board games, card games and video games to play together.
- Spice up the holidays with gingerbread. You can bake gingerbread cookies or gingerbread cake. Try your hand at building a gingerbread house -- either with a kit or with graham crackers and frosting.

H
- Keep things cozy with hot chocolate. Set up a hot chocolate station with different flavors such as mint, caramel or raspberry, flavored marshmallows, and fun extras like chocolate sprinkles or cinnamon stir sticks.
- Take part in local holiday happenings. Go to a holiday concert; be a part of the local holiday tree lighting ceremony; visit Santa; or go to a seasonal sporting event. It's easy to find something to put you in the holiday spirit when you search with Bing, which gives you performance times, ticketing information, maps and more right within the search page.

I
- Go ice skating at a local rink. You can rent skates and take a spin on the ice together.