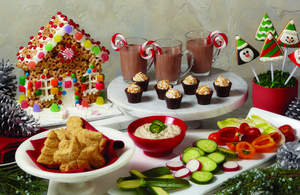 Holiday House Treat, Crispy Cheese Crackers, Eggnog Hot Chocolate, Salted Caramel Bacon Cordial Cups, Fire Roasted Jalapeño Onion Dip, Gingerpops Cookie Kit


MISSION, KS -- (Marketwire) -- 12/06/12 -- (Family Features) Host a holiday party that's simple and festive with a combination of pre-made and homemade delights from the celebration experts at Wilton.

For starters, a cookie pan does double duty for holiday-shaped homemade Crispy Cheese Crackers. Serve these aromatic rosemary treats, made into Christmas trees, snowmen and stockings, alongside a colorful assortment of fresh vegetables and made-from-scratch fire-roasted jalapeño dip.

"Guests will think you spent hours baking in the kitchen when you wow them with a seasonal selection of hand-decorated gingerbreads," says Nancy Siler, vice president of consumer affairs at Wilton.

Easy to assemble with all the trimmings included, there's a ready-to-decorate gingerbread kit to fit any yuletide gathering. Complete with pre-baked gingerbread, each kit contains decorating accessories like candies and icings to personalize your own mini village, Christmas tree, gingerpop cookies and more.

For another fun twist on a traditional gingerbread house, Siler recommends getting the kids involved. They'll love the marshmallow-y Holiday House Treat made of cinnamon toasted oats cereal. Once the house is built, watch the kids decorate their yummy creation with a variety of gumdrops, licorice, icings and candies.

To cater to a more sophisticated palate, Siler suggests Salted Caramel Bacon Cordial Cups. A lavish blend of vanilla pudding, crisp-cooked bacon and whipped cream is flavored with caramel ice cream topping and piped into edible, dark cocoa Candy Melt cordial cups. They're bite-sized holiday bliss.

Don't forget eggnog. This year, give your favorite prepared eggnog a chocolate kick and serve Eggnog Hot Chocolate garnished with peppermint Candy Curls.

For more holiday recipe project and decorating ideas, or to purchase gingerbread kits, visit www.wilton.com.



Holiday House TreatMakes about 12 servings       6      cups cinnamon-flavored toasted oats cereal       4      tablespoons (1/2 stick) butter       1      bag (10 ounces) mini marshmallows       1-1/2  teaspoons ground ginger       1      teaspoon ground cinnamon              Assorted Tube Icing, Decorating Gel, Sprinkles, Colored              Sugars, Icing Decorations and other favorite candy
Prepare Wilton Stand-Up House Pan with vegetable pan spray.
Place cereal in large bowl. In large saucepan, melt butter; add marshmallows, ginger and cinnamon. Cook and stir constantly until melted. Pour over cereal and mix well. Spread cereal mixture into prepared pan. When cool to touch, remove from pan; secure to foil-wrapped cake board with icing. Decorate as desired with icing, sprinkles, sugars, icing decorations and candy.
Crispy Cheese CrackersMakes 16 to 20 crackers       1/2    cup (1 stick) unsalted butter, softened       3/4    cup (about 2 ounces) finely grated Asiago cheese       1      ounce (about 1/4 cup) toasted pine nuts, finely chopped       1-1/2  teaspoons minced fresh rosemary       1/2    teaspoon garlic powder       1/2    teaspoon salt       1/4    teaspoon black pepper       1-1/2  cups all-purpose flour