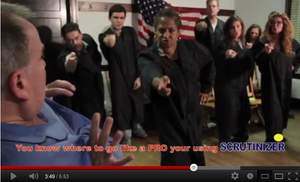 PLIXER'S MIX MASTER MITCH CISCO MEDIANET RAP VIDEO



SANFORD, ME -- (Marketwire) -- 12/05/12 -- Plixer International, Inc., a leading provider of NetFlow-based network traffic monitoring and threat detection technology, today announced the debut of its latest in the popular Mix Master Mitch video series. Titled, "Cisco Medianet: Application Performance Monitoring with NetFlow," the entertaining video series blends Plixer's new Scrutinizer v10 features with the rapping style of Mix Master Mitch, to both entertain and inform viewers about the network performance and security benefits of flow-based monitoring tools.

The new Cisco Performance Monitoring rap video is currently available on youtube.com and includes a cameo appearance by Plixer's President and CEO -- Michael Patterson. Patterson, who recently published Unleashing the Power of NetFlow and IPFIX, elaborates on the marketing value of combining rap music and network monitoring features, "In the technology industry, there are tremendous amounts of webinars and white papers detailing product features and technical specifications; after a while, they seem to become white noise. We are trying something different."

Plixer's new Scrutinizer v10 NetFlow and sFlow Analyzer includes features such as:

•More Cisco Performance Monitoring and NBAR reports as well as additional Dell-SonicWALL security appliance reports. •Improved ASA Support: Denied flows detection and syslog correlation. These features deliver enhanced forensic investigation and monitoring capabilities. •Log monitoring capabilities: For example, VMware, Linux and Microsoft Server logs through the use of the Flow Replicator. •Improved 3rd party integration: The device status in maps reflects the combined statuses of selectable 3rd party applications. This feature empowers administrators who are taking a best of breed approach to an ideal network management solution. •New Mapping: Multiple connections between the same devices, animated links, notification dependencies and a sexier look and feel. •IP Groups: Now show traffic between customized groups of IP Addresses. •Report Designer: Select any flow template, choose the elements, group by this, sum by that, count, max, avg. etc. then save the report. The saved report design will be available on any device exporting the correct template. •Virtual and Hardware Appliances: Supports higher flow volumes and an alternative to a Microsoft Windows install.