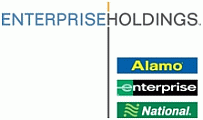 ST. LOUIS, MO -- (Marketwire) -- 12/05/12 -- Enterprise Holdings today announced that, for the first time in its more than 55-year history, the company is franchising its flagship Enterprise Rent-A-Car brand, as it appoints Guerin Car Rental Solutions as a franchisee in Portugal. This agreement brings the Enterprise Rent-A-Car brand's European presence to six countries -- the UK, Germany, Ireland, France, Spain and Portugal -- representing more than 65 percent of the European car rental market.

With the company's announcement earlier today that it is rebranding the recently acquired Citer and Atesa operations in France and Spain, the total number of corporate-owned and franchise Enterprise Rent-A-Car locations in Europe now exceeds 1,000. Today, the European Enterprise Rent-A-Car network operates more than 100,000 vehicles.

"We are committed to developing a comprehensive network of rental car businesses across Europe and beyond," said Jim Burrell, senior vice president, Europe, for Enterprise Holdings. The company -- through its regional subsidiaries -- operates the largest fleet of vehicles in the world and a global network of more than 8,200 airport and neighborhood locations.

International Gateways
"While this may be the first franchising agreement for the Enterprise Rent-A-Car brand, it won't be the last," said Peter A. Smith, vice president of global franchising. "In fact, we plan to continue this same growth strategy throughout Europe, the Middle East, Africa and Asia."

The new franchise agreement not only enables both companies to better meet customers' needs, it also marks Enterprise Holdings' entry into the Portuguese market. Since 1989, Guerin has been a leader in Portugal's car rental sector with a nationwide presence in all metropolitan centers and major airports, including the international gateways of Lisbon, Faro, Madeira and Porto.

"We're careful to choose strong, stable domestic businesses as our international franchise partners, and Guerin certainly meets that standard as a well-respected travel industry leader in Portugal," Smith continued.

"Enterprise Rent-A-Car is known for great value and superior service," said José António Figueiredo, managing director of Guerin. "Now, together, we'll extend that same level of value and service to customers throughout Portugal."

As the Enterprise Rent-A-Car brand expands its global footprint, special training will be provided to underscore Enterprise's unique customer service approach, including management techniques designed to give branch employees greater autonomy to meet the needs of local customers. To further ensure that the Enterprise Rent-A-Car brand remains synonymous with customer service excellence around the world, franchised locations also will apply the renowned Enterprise Service Quality index (ESQi), which measures employees' success in satisfying their customers. Customer feedback is tabulated and tracked every month to determine the ESQi score, which links employees' career and financial aspirations with their ability to provide consistently superior service to each and every customer.