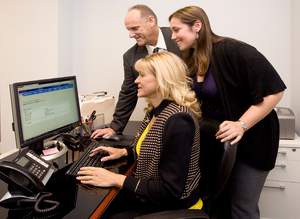 Cindy Natoniewski (seated) of EYEMAGINE, with Patrick Orr and Gianna Santi of smplsolutions, says Toshiba's IPedge gave EYEMAGINE 'exactly what we wanted: an affordable VoIP business telephone system designed for small businesses.'


IRVINE, CA -- (Marketwire) -- 12/04/12 -- Toshiba America Information Systems Inc., Telecommunication Systems Division (Toshiba) -- www.telecom.toshiba.com, helped EYEMAGINE Technology, an Irvine, Calif.-based eCommerce innovator, meet its communications goals with a new IPedge® EP Voice over IP business telephone system. Founded in 2003, EYEMAGINE empowers Fortune 500 clients nationwide to meet and exceed eCommerce goals by delivering effective eCommerce solutions, including design, development, mobile applications, systems integration, conversion optimization, enterprise resource planning (ERP) integration, custom online payment solutions, and more.

Cindy Natoniewski, EYEMAGINE's operations manager, specified the need for an IP business telephone system that would meet EYEMAGINE's communication objectives, which include:

•Establishing a voice communication presence with an affordable IP business telephone system; •Replacing the previous system, which had been outgrown, with the latest in IP technology; •Delivering the scalability that allows new users, features, and applications as the company grows; •Having an Automated Attendant with different time-of-day outgoing greetings so that incoming calls are always answered; and •Allowing users to personalize their telephone features, including their voice mailboxes.

EYEMAGINE turned to smplsolutions of Lake Forest, Calif., an Authorized Toshiba Dealer since 2001. Mark Gallagher, sales engineer smplsolutions, recommended Toshiba's IPedge EP Voice over IP business telephone system. He said, "Toshiba's IPedge EP is the perfect telephone system for growing small businesses. It has all the bells and whistles of a bigger system but is designed for companies with less than 40 users per server."

Solution: Toshiba's IPedge EP Delivers Scalable and Effective Voice Communication Presence

Installed and serviced by smplsolutions, EYEMAGINE's Toshiba business telephone system consists of:

•One IPedge EP business telephone system, a single-server solution; •Toshiba IP 5000-series desk telephones; •Unified Messaging, which allows users to receive email, faxes, and voice messages in their email inboxes; and •Enterprise Manager for simple on-site management, including changing names and resetting voice mail passwords.