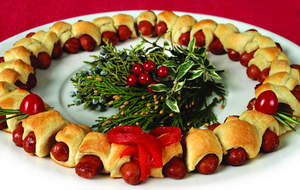 Holiday Appetizer Wreath


MISSION, KS -- (Marketwire) -- 12/03/12 -- (Family Features) Holiday parties should be fun -- so why not serve up some tasty appetizers with a creative seasonal twist that will be sure to spice up your gathering?

These clever bites start with versatile party favorites Hillshire Farm Lit'l Smokies -- and then the fun begins. Start off with an impressive -- and edible -- wreath for the centerpiece and serve with a cranberry-barbecue dip. Next, dress up your cocktail links with some delicious fare: simmer your Smokies in a zesty sauce; wrap them up in crispy bacon; make a splash with pineapple and edible flowers; dip and fry to make your own mini corn dogs; and turn them into tasty reindogs. With these fun-tastic appetizers, not only will you give guests plenty of food to eat, you'll give them plenty to talk about.

For more recipes to add merriment to your celebrations, visit www.hillshirefarm.com.



Holiday Appetizer WreathYield: 16 servingsPrep Time: 30 minutesCook Time: 15 minutes32                        Hillshire Farm Lit'l Smokies1/2                       cup whole berry cranberry sauce1/2                       cup barbecue sauce1                         can (8 ounces) refrigerated crescent dough rolls                          Roasted bell pepper strips, cherry tomato halvesOptional:                 and fresh rosemary for garnish
Preheat oven to 375 degrees F.
Open package of sausages and drain off liquid.
Combine cranberry sauce and barbecue sauce in a small saucepan; heat over low heat, stirring until smooth and hot.
Unroll dough, separate at perforations, creating 4 rectangles. Press perforations to seal. With knife or pizza cutter cut each rectangle lengthwise into 8 strips, making a total of 32 strips.
Wrap 1 strip of dough around each sausage. Place crescent-wrapped sausages with sides touching on ungreased cookie sheet or round baking stone in a circle, forming a wreath shape.
Bake for 11 to 15 minutes or until golden brown. Cool slightly.
Carefully remove wreath onto serving platter, if desired. Garnish wreath with bell pepper strips to form a bow, and cherry tomato halves and rosemary sprigs for ornaments, if desired.
Serve with cranberry-barbecue sauce.
Lit'l Party DelightsYield: 9 servingsPrep Time: 5 minutesCook Time: 15 minutes1                         package Hillshire Farm Lit'l Smokies3/4                       cup chili sauce3/4                       cup grape jelly1                         tablespoon red wine1                         teaspoon dry mustard1 1/2                     teaspoons soy sauce1/4                       teaspoon ground ginger1/4                       teaspoon ground cinnamon1/4                       teaspoon ground nutmeg
Open package of sausages and drain off liquid; set aside.
Combine remaining ingredients in medium saucepan. Heat, stirring occasionally, over medium heat until jelly is melted and mixture is smooth.