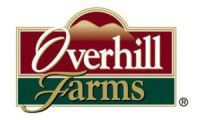 LOS ANGELES, CA -- (Marketwire) -- 12/18/12 -- Overhill Farms, Inc. (NYSE MKT: OFI) today reported net revenues of $194.4 million for the fiscal year ended September 30, 2012, an increase of $25.2 million or 14.9% from net revenues of $169.2 million for the fiscal year ended October 2, 2011.

Net income for fiscal 2012 was $3.1 million or $0.20 per basic and $0.19 per diluted common share, more than double the net income of $1.4 million or $0.09 per basic and diluted common share of the prior fiscal year.

The Company also reduced the outstanding balance of its credit facility by $4.0 million during fiscal 2012.

James Rudis, the Company's Chairman, President and Chief Executive Officer, said, "We are pleased to report substantial increases in both revenues and net income despite an economic climate that continues to be challenging for us and for our customers."

"We continue to see the positive effects of our Boston Market frozen food license. We are pleased to report that the Kroger supermarket chain, with 2,425 stores in 31 states, will begin carrying our Boston Market brand frozen foods, with initial shipments scheduled for February of 2013," Mr. Rudis added.

As previously announced, after receiving several substantive proposals regarding potential transactions, the Company engaged the investment banking firm of Piper Jaffray & Co. to assist it in evaluating these and other alternatives. Mr. Rudis said that Piper Jaffray has presented proposals to the Company, which are currently being evaluated by management and the Board of Directors.

The increase in net revenues for fiscal 2012 was primarily due to higher sales volumes from the Company's portion of Boston Market brand products and from a major food service account.

Retail net revenues for fiscal 2012 increased by $12.5 million, or 11.1%, to $125.4 million from $112.9 million for the prior fiscal year. The increase in retail net revenues was largely due to an increase in sales of Boston Market products (sold to various third party customers) of $25.7 million. This increase was partially offset by decreases in net revenues to Jenny Craig, Inc. of $11.0 million and $2.2 million to other retail accounts.

Foodservice and airline net revenues for fiscal 2012 increased by $12.5 million, or 22.2%, to $68.9 million from $56.4 million for fiscal 2011, due primarily to a $14.2 million increase in sales to Panda Restaurant Group Inc, partially offset by a $2.0 million decrease in airline net revenues. As a result of the decreased significance to the Company of airline revenues, the airline category will be included in the foodservice net revenue category going forward.

For fiscal 2012, the foodservice category as a percentage of net revenues increased to 35.4% from 33.3% for fiscal 2011. The Company continues to increase its sales efforts in this category, and believes foodservice represents a significant opportunity in fiscal 2013 and beyond.

Gross profit for fiscal 2012 increased by $4.0 million, or 30.8%, to $17.0 million from $13.0 million for fiscal 2011. Gross margin increased to 8.8% for fiscal 2012 from 7.7% for fiscal 2011.