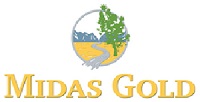 VANCOUVER, BRITISH COLUMBIA -- (Marketwire) -- 12/18/12 -- Midas Gold Corp. (TSX: MAX) today announced that it has completed the 2012 work program at its 100% owned Golden Meadows gold-antimony project located in Idaho. This work program included more than 50km of core, sonic, reverse circulation ("RC"), geotechnical and water well drilling completed with the objectives of upgrading the confidence of the existing mineral resource, expanding those mineral resources, testing the geotechnical characteristics of the wall rocks and completing water wells for groundwater monitoring purposes. This information will be utilized in the preparation of updated mineral resource estimates as well as optimizing the Preliminary Economic Assessment ("PEA"), the results of which were reported on September 4, 2012.

Significant achievements in 2012 include the following:


--  Completion of 50,546m of core, sonic, RC, geotechnical and water well    drilling in 235 holes, of which 41,429m was core drilling in 162 holes,    7,360m was RC in 29 holes, 481m of sonic drilling to pre-collar other    holes and 1,276m was completed in 44 water wells. This is more than    double the number of metres and holes completed in 2011, and this    drilling is expected to result in an improved mineral resource that will    be reported in the first half of 2013.--  Approximately 40,000m of resource drilling was designed to upgrade the    confidence level in the inferred mineral resources in all three of the    known deposits (Hangar Flats, West End and Yellow Pine) or to expand    those deposits. Results generally confirmed the previously defined    mineral resources and, as a result, are expected to upgrade a    significant portion of the mineral resources to an indicated category.    In addition, step-out drilling expanded the deposits beyond the    previously defined resource limits - especially at Yellow Pine and West    End.--  Approximately 5,300m of drilling was conducted for the purposes of    discovering completely new deposits, which drilling was primarily    centred on the newly defined Scout gold-antimony deposit.--  Approximately 700m of holes were drilled specifically to collect sample    material for metallurgical testing which, along with sample material    collected from other holes, is being utilized in an extensive    metallurgical optimization program currently underway at independent    laboratories.--  In addition to drilling, Midas Gold conducted extensive geophysical,    geochemical and geological exploration programs (including more than    52km of CSAMT surveys, 3,400 soil samples and 350 stream sediment    samples) with the objective of discovering new deposits, and    successfully outlined a number of new targets.--  In parallel with its exploration and resource definition drilling    programs, Midas Gold had significant programs to collect environmental    baseline, geotechnical, water quality, groundwater hydrology, and other    information to support its plans for an updated Preliminary Economic    Assessment scheduled for completion in the second half of 2013.--  During 2012, Midas Gold completed extensive remediation of its own    disturbance, as well as legacy disturbance left by prior operators,    including planting of 8,245 trees, application of dust suppression    products to 6.5 miles of private and public roads and reclamation of    18.5 acres.--  Midas Gold completed its activities in an environmentally responsible    and safe manner, often exceeding local, state and federal regulatory    requirements.