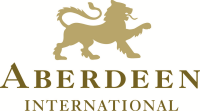 TORONTO, ONTARIO -- (Marketwire) -- 12/18/12 -- ABERDEEN INTERNATIONAL INC. ("Aberdeen", or the "Company") (TSX: AAB) is pleased to announce that it has released its financial results for the third quarter of 2013, ended October 31, 2012. For more information please see the Company's Condensed Interim Financial Statements and Management's Discussion and Analysis ("MD&A") posted on SEDAR at www.sedar.com.

As at October 31, 2012, Aberdeen's Shareholders' Equity (or Net Asset Value, "NAV") was $73.9 million, or $0.86 per share. Aberdeen's shareholders' equity increased by $2.6 million from $71.3 million at the end of Q2 2013. The increase in shareholders' equity was due to the performance of Aberdeen's equity investment portfolio in the third quarter, which increased $3.7 million or 5.2% to $75.3 million, primarily as a result of the successful listing transaction of Premier Royalty, which triggers a conversion in the Company's Premier Royalty debenture (the "Debenture"). The converted value is reflected below under "Loans", and this asset will be moved into the Company's equity investment portfolio next quarter as the Company converted the Debenture into and now hold common stock and warrants of Premier Royalty (as set out in the Company's press release dated 10 December 2012 entitled "Aberdeen Converts Convertible Debenture Into Common Shares and Warrants of Premier Royalty Corporation" and filed on SEDAR.

In the third quarter of 2013, the stock market performance for small capitalization mining and resource stocks continued to be weak. On a year-over-year basis, Aberdeen's shareholders' equity decreased by $40.1 million. Note that the reference to shareholders' equity is similar to previous references to Net Asset Value or "NAV" by Aberdeen.


                   October 31, 2012    January 31, 2012     October 31, 2012Shares outstanding             86,272,302          86,100,139           86,872,139                         $ $/Shares          $ $/Shares           $ $/Shares               -------------------------------------------------------------Cash on hand     1,118,673     0.01  7,372,118     0.09   7,384,383     0.09Investments  Publicly   traded       31,082,470    0.360 51,916,759    0.603  59,280,908    0.682  Private       13,831,781    0.160 16,325,377    0.190  17,624,515    0.203  Non-trading   warrants    Intrinsic     value         100,650    0.001  1,915,000    0.022   2,757,980    0.032    Option     value         841,105    0.010  2,170,214    0.025     471,610    0.005               -------------------------------------------------------------                   941,755    0.011  4,085,214    0.047   3,229,590    0.037               -------------------------------------------------------------Portfolio Investments    45,856,006    0.532 72,327,350    0.840  80,135,013    0.922Loans / Preferred Shares         28,310,109    0.328  3,459,778    0.040  12,588,729    0.145               -------------------------------------------------------------Total           75,284,788    0.873 83,159,246    0.966 100,108,125    1.152               -------------------------------------------------------------               -------------------------------------------------------------