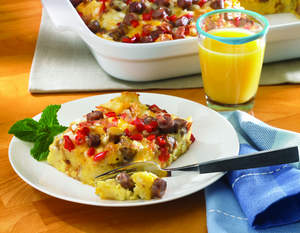 Overnight Breakfast Casserole


MISSION, KS -- (Marketwire) -- 12/17/12 -- (Family Features) Don't save all the great food for one holiday meal -- make holiday mornings special with some simple, hearty and flavorful breakfast recipes the whole family will want to wake up to.

•Make Overnight Breakfast Casserole the night before, then just heat it up in the morning. •Set out some Amazing Breakfast Muffin Cups -- they're perfect for people who like to graze throughout the morning. •Breakfast Pizzas with sausage are quick, fun and delicious -- and loved by everyone, from the picky kids, to the uncle who's never satisfied. •Sweet & Savory Bruschetta will become your new go-to recipe that makes you proud when you're asked to bring an appetizer or a brunch dish to share.

Get more satisfying ways to wake up your holiday breakfasts at www.johnsonville.com.



Overnight Breakfast CasseroleServes: 12  2     packages (12 ounces each) Johnsonville Original Breakfast Sausage        Links  6     English muffins, cut into 1-inch cubes  1/4   cup butter, melted  1     cup (4 ounces) cheddar cheese, shredded  1     cup (4 ounces) mozzarella cheese, shredded  1/2   cup onion, chopped  1/2   cup red pepper, chopped  12    large eggs  2     cups milk  1/4   teaspoon salt        Pepper to taste  1/4   cup bacon bits
Cook sausage according to package directions. Cool slightly; cut into 1/4-inch pieces.
In greased 13 x 9-inch baking dish, layer half the English muffin cubes and half the cooked sausage. Repeat layers.
Drizzle with butter and top with cheese, onion and red pepper.
In large bowl, combine eggs, milk, salt and pepper. Pour over casserole. Sprinkle with bacon. Cover and refrigerate overnight.
Remove from refrigerator 30 minutes before baking. Uncover and bake at 350 degrees F for 45 to 50 minutes, or until knife inserted into center comes out clean.
Let stand 5 minutes.
Sweet & Savory BruschettaMakes: 16 piecesServes: 6 to 8  2     ripe tomatoes, diced  1/2   cup diced sweet pineapple  4     ripe strawberries, stemmed and diced  1/4   cup julienned fresh basil leaves, (about 4 large leaves)  1/4   cup julienned fresh mint leaves, (or 1/2 teaspoon dried)  3     tablespoons pure maple syrup  1     12-ounce package Johnsonville Original Breakfast Sausage Patties  1     thin baguette, sliced  1/3   cup olive oil  8     slices fresh mozzarella, cut in half
Make bruschetta topping: In bowl, mix together tomatoes, pineapple, strawberries, basil, mint and maple syrup. Stir to combine. Cover and set aside.
Divide each of the 8 sausage patties in two and pinch edges to shape into smaller patties. Cook according to package directions, set aside. Cover to keep warm.
Place oven rack in top-third section of oven and set oven to broil.
Slice baguette into 16 slices (about 1/2-inch thick) and brush one side with olive oil.