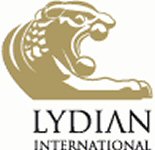 TORONTO, ONTARIO -- (Marketwire) -- 12/17/12 -- Lydian International Ltd. (TSX: LYD) ("Lydian" or "the Company"), a gold-focused mineral exploration and development company, today announced that a crushing circuit trade off study has been completed to improve previous design studies carried out in the Feasibility Study (see press release September 7, 2012) and to look at alternative scenario's in which a larger and single crusher scenario may have advantages. Amulsar is a feasibility level high-sulfidation style, heap-leach gold project with reported CIM compliant Proven and Probable reserves of 2.29M Oz Gold at 0.8 g/t and 9.98M Oz Silver at 3.3 g/t and a resource of 0.2M Oz Gold at 1.0 g/t in Measured and Indicated category and 1.1M Oz Gold at 0.9 g/t in Inferred category.

Lydian has decided to examine an alternative option of utilizing a processing rate of 10 Mtpa from the commencement of operations as the base case production scenario. For this SNC-Lavalin was commissioned to conduct a crushing circuit trade-off study to evaluate the capital cost implications of constructing a single gyratory crusher as opposed to twin jaw crushers installed in phases as modeled in the original feasibility study released in September 2012.

Ten different crushing and screening plant configurations were assessed and compared. The options study examined various sizes and numbers of equipment used in each of the three crushing and associated screening stages. A preferred configuration consisting of one primary gyratory crusher, two secondary double-deck screens, two secondary cone crushers, three tertiary double-deck screens and three tertiary cone crushers was selected.

The advantages of the revised crushing circuit include:

An increased maximum feed size to the primary crusher (gyratory) now 1260mm as opposed to 700mm previously, reducing cost and downtime associated with handling oversize material on the ROM stockpile.

An increase in maximum throughput, now 1800tph as compared to 1565tph which ensures a robust plant with suitable catch up and sprint capability to be able to provide flexibility during the winter weather conditions, making more certain a consistent annual production rate of 10 Mtpa.

Construction and commissioning is completed at the outset of the project with no interruptions in Year 3 of the mine to facilitate installation of the second phase of the crushing circuit, known as the ramp-up period.

A more compact footprint resulting in reduced time and cost associated with foundation preparation for construction.

Estimates completed to feasibility level (+/-15%) including contingency indicate that this crushing circuit will be cost neutral in comparison to that proposed in the feasibility study, while providing increased capacity and significant operational benefits.

Lydian intends to refine this design over the coming months in conjunction with updates to the resource model. Further cost reductions may be achievable once the final crusher location is determined as site civil works including excavation and back fill may not be as intensive as previously envisaged.