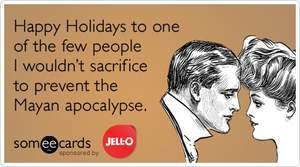 Happy Holidays to one of the few people I wouldn't sacrifice to prevent the Mayan apocalypse.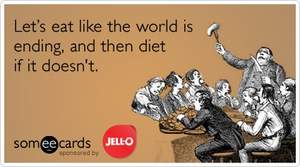 Let's eat like the world is ending, and then diet if it doesn't.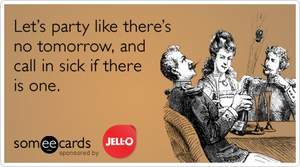 Let's party like there's no tomorrow, and call in sick if there is one.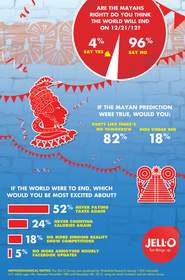 The Mayan Apocalyptic Divide - Where Do You Fall?



GLENVIEW, IL -- (Marketwire) -- 12/17/12 -- JELL-O®, one of America's most beloved and iconic brands, will try to save the world from the Mayan-predicted apocalypse by appeasing the gods with an unexpected and fun offering of delicious JELL-O Pudding.

In lieu of traditional, boring vegetable offerings to the Mayan gods, JELL-O is offering a fun sacrifice of pudding in an attempt to save the world from the impending apocalypse. Today, JELL-O will share their big plans with 60- and 30-second TV spots called "Fun to the Rescue," created by CP+B. JELL-O will also sponsor apocalypse-themed programming on cable networks throughout the week, all part of the goal to "fun things up."

"Food has been over-intellectualized in the world with 24-hour cooking channels and molecular gastronomy," said Greg Gallagher, Senior Brand Manager, JELL-O, Kraft Foods Group, Inc. "Fun is in the DNA of JELL-O and by inserting ourselves in the cultural conversation of the Mayan apocalypse, we will remind people to have some fun with their food."

To "fun things up" during the potential impending apocalypse, the brand will be engaging spontaneous, fun-seeking Americans by inviting them to share what they'd like to accomplish in the off chance JELL-O is unable to save the world. Through December 20, the brand will randomly select 12 entries each day to win $100 to use toward completing their bucket list.

Here's how to enter:

•Follow @JELLO at Twitter.com/JELLO •Tweet @JELLO with hashtag #funpocalypse •Share what you'd like to cross off your bucket list if the world does end this week from the Mayan apocalypse

See the complete contest rules here: www.hunterpr.com/funpocalypse

As part of the "funnest" sacrifice ever, JELL-O commissioned a national consumer survey to understand Americans' perceptions about the Mayan apocalypse. The survey found that while 96% of Americans believe the world will not end, surprisingly, 4% of Americans actually believe it will come to an end on 12/21/12. However, that doesn't stop people from celebrating, as 82% would "party like there's no tomorrow" if the Mayan prediction were in fact true. Other survey results include(1):

•If the world were to end, Americans would be most excited about never having to pay taxes again (52%), followed by never counting calories again (24%) •18% of Americans would "hide under their bed" if the Mayan prediction were true

To help inform the public about their efforts to help save humanity, JELL-O has enlisted street teams to bring the fun to five major metropolitan areas where they will hand out leaflets and notify the public that "the end isn't near, the fun is" thanks to the brand's efforts. And as part of their mission to "fun things up," JELL-O is marking the end of the Mayan calendar by partnering with Someecards to offer a unique set of end-of-the-world-inspired, electronic greeting cards, helping consumers have a bit of fun before the apocalypse. You can view the cards and site at: http://some.ly/Y2uDpk

For more information on how JELL-O plans to save the world or the new campaign, visit www.funpocalypse.org.

ABOUT KRAFT FOODS GROUP
Kraft Foods Group, Inc. (NASDAQ: KRFT) is North America's fourth largest consumer packaged food and beverage company, with revenues of approximately $19 billion in 2011. Launched as a public and independent company on Oct. 1, 2012, the new Kraft has the spirit of a startup and the soul of a powerhouse. The company has an unrivaled portfolio of products in the beverages, cheese, convenient meals and grocery categories. Its iconic brands include Kraft, Maxwell House, Oscar Mayer, Planters and JELL-O. Kraft's 25,000 employees in the U.S. and Canada have a passion for making the foods and beverages people love. Kraft Foods Group is a member of the Standard & Poor's 500 index. For more information, visit www.kraft.com and www.facebook.com/kraft.

(1) According to a JELL-O survey conducted by Wakefield Research among 1,000 nationally representative U.S. adults, ages 18 and older, on November 28 - December 4, 2012.

Embedded Video Available



Image Available: http://www2.marketwire.com/mw/frame_mw?attachid=2183157
Image Available: http://www2.marketwire.com/mw/frame_mw?attachid=2183159
Image Available: http://www2.marketwire.com/mw/frame_mw?attachid=2183161
Image Available: http://www2.marketwire.com/mw/frame_mw?attachid=2183164
Embedded Video Available: http://www2.marketwire.com/mw/frame_mw?attachid=2183169


Add to Digg Bookmark with del.icio.us Add to Newsvine