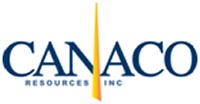 VANCOUVER, BRITISH COLUMBIA -- (Marketwire) -- 12/17/12 -- (All figures in Canadian dollars)

Canaco Resources Inc. (TSX VENTURE: CAN) ("Canaco" or the "Company") today announced it has entered into a binding share purchase agreement (the "Share Purchase Agreement") dated December 14, 2012 whereby Canaco is expected to acquire all of the outstanding common shares of Shark Minerals Inc. ("Shark") in exchange for common shares of Canaco (the "Shark Acquisition"), conditional upon, among other things, certain assets of Canaco being spun out to a new company to be held pro rata by current Canaco shareholders (the "Spinout Transaction" and, together with the Shark Acquisition, the "Transaction").

Under the Share Purchase Agreement, Shark shareholders will receive 2.705 Canaco common shares for each Shark share held or, in aggregate, Shark shareholders will receive 117.3 million Canaco shares, to be adjusted for any Canaco option exercises prior to closing. The implied equity value of Shark is approximately $35.2 million or, net of Shark's $7 million cash balance, the transaction value is approximately $28.2 million.

Shark is a privately held, British Columbia incorporated resource company engaged in the acquisition and exploration of mineral properties in East Africa. Shark was founded and is managed by the former executives of Red Back Mining Inc. Shark is currently focused on exploring the Galat Sufur Project, a 20,020 square kilometre land package in northern Sudan near the border with Egypt that forms part of the Arabian-Nubian Shield ("Galat Sufur").

Galat Sufur has had little, if any, modern exploration activity prior to Shark and is considered prospective with many artisanal miners active within the region. Shark has been exploring Galat Sufur for the past 12 months and has identified several drill targets and an initial drill program is under way.

In addition, Shark controls the 4,846 square kilometre Ghazal Project near the Eritrean border in northeastern Sudan. This project is prospective for VMS style mineralization.

As a condition to completion of the Shark Acquisition, Canaco will first complete the Spinout Transaction by way of plan of arrangement whereby it will: (a) transfer all of its Tanzanian assets, approximately $26 million in cash and certain other assets and liabilities to a new company, named East Africa Metals Inc. ("East Africa Metals"), expected to be listed on the TSX Venture Exchange, and (b) distribute all of the shares of East Africa Metals to current Canaco shareholders on the basis of one East Africa Metals share for every three shares of Canaco held by shareholders as of the effective date of the Spinout Transaction. East Africa Metals' business plan will focus on advancing its Tanzanian assets through a measured approach and actively evaluating other exploration opportunities throughout Africa. Upon completion of the Spinout Transaction, it is expected that East Africa Metals will be managed by certain current executives of Canaco as required to pursue the company's new business plan.

Upon completion of the Shark Acquisition, Canaco will have approximately 317.1 million common shares issued and outstanding, of which former Shark and current Canaco shareholders will own approximately 37% and 63%, respectively. Immediately following the completion of the Shark Acquisition, Canaco is expected to consolidate its common shares on the basis of one post-consolidation common share for every three pre-consolidation common shares.