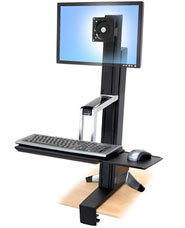 Ergotron's WorkFit-S Sit-Stand Workstation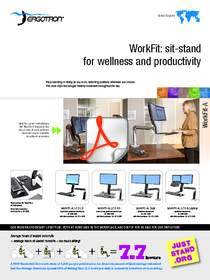 TOLEDO, OH -- (Marketwire) -- 12/14/12 -- To help protect employees from the adverse health effects of long periods of sitting, ProMedica has launched their "Take a Stand" wellness program. Formally rolled out in October and November, the program encourages ProMedica employees to break up their sedentary work routines using a combination of standing, stretching and ergonomics.

Core to its "Take a Stand" program is the implementation of 425 Ergotron WorkFit Sit-Stand Workstations. Distributed over a three month period to employees whose computing-intensive positions require extended sitting during the day, the WorkFit Sit-Stand Workstations enable employees to effortlessly alternate between a seated or standing position, as their bodies require while they worked.

In a 12-week study, conducted in Fall 2011, 26 ProMedica employees, who spend a majority of their workday sitting, were given sit-stand workstations and asked to stand at least one hour a day. Through pre- and post-surveys, ProMedica examined a variety of areas including participants ability to focus at the end of the day, weight changes, pain, energy level and job satisfaction. At the end of the study, 85 percent of participants said that they would recommend the workstation to others. Ritzler shared the results of the study in an Ergotron-sponsored Webinar that can be accessed online on Juststand.org in the Videos section or via YouTube.

"We were familiar with the studies being done on the impact standing has on a variety of health factors so it wasn't surprising that at the end of the study we saw improvements in every area we were evaluating," said Laura Ritzler, co-director ProMedica Wellness. "What really surprised us, and was statistically most significant, was the level to which body discomfort decreased and mental focus increased. In fact, only a couple of days into the study, I was getting emails from participants sharing how dramatically their pain had subsided."