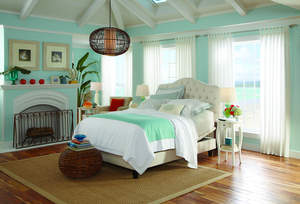 Photo courtesy of Leggett & Platt


MISSION, KS -- (Marketwire) -- 12/13/12 -- (Family Features) In today's busy, on-the-go world, having a haven to come home to is a must. And for many people, that sanctuary is the bedroom.

In fact, a recent study by Leggett & Platt Adjustable Bed Group found that 90 percent of people surveyed want their master suite to be a tranquil retreat.

"Today's bedroom is for more than just sleeping," says Emily Henderson, host of "Secrets from a Stylist" and HGTV's Season 5 "Design Star" winner. "From working and engaging with media to reading, relaxing and watching TV, we are doing more in our bedrooms than before. But that doesn't mean we have to compromise great style and comfort. I like to help create spaces that are comfortable and exude warmth no matter their use."

Henderson recently shared a few of her designer secrets to help anyone create a peaceful and luxurious haven.

Choose the Right Color Palette
Color really sets the mood for a room. While soft, cool colors and neutrals create a soothing mood, strong colors add drama.

Henderson says that some colors, such as red, yellow and hot colors like fuchsia and orange, can feel aggressive.

"As much as I love a bold color, I often work with blues, grays and creams as the dominant colors for a bedroom," says Henderson. "Go for a neutral like taupe or ivory if you want it to feel warmer, or a cooler neutral like light blue or grey if you want it to feel more calming. Then you can add hits of a stronger accent color."

A good rule of thumb when choosing colors is 60-30-10. Sixty percent of the room should be the dominant color (walls), 30 percent a secondary color (upholstery) and 10 percent an accent color (accessories.)

When choosing your colors, start with something you love as your inspiration. It can be a painting, a pillow or even your favorite vase. Use that item to build out the perfect color palette for your bedroom.

Beautify Your Bed and Bedding
The Better Sleep Council says that, in general, a mattress set that has been in use for seven years should be replaced in order to give you the best comfort and support possible. "If it's time to replace your mattress, think about upgrading your whole bed," says Henderson. "An adjustable bed can offer not only customizable comfort but a chic look, too. I have one from Leggett & Platt's Designer Series that lets me adjust the head, knees and feet -- and I have massage options. It's made a big difference in my life, and it looks great, too!"

She recommends considering an upholstered bed for a look that is softer and more cozy; a simple platform bed for something more modern; or an ornate iron bed frame for something more antique and old world.

To get the designer look you see in magazines and on websites for your bed, Henderson says you need to choose great bedding, and learn how to layer it.

"Make sure you have tons of textures and layers," she said. "More than any other room, upholstery is important. In your bedroom, you want everything soft. You don't necessarily need a lot of patterns or colors. The key is to contrast textures like wools, linens, cashmeres and knits to make it feel inviting. Remember to keep everything in your color palette to avoid it looking messy or feeling busy."