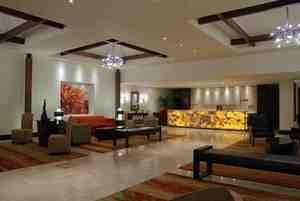 The 230-room Wyndham San Jose Herradura Hotel & Conference Center is located just steps from downtown San Jose and offers free wireless internet, on-site dining, three pools and some of the largest meeting space in Costa Rica.



PARSIPPANY, NJ -- (Marketwire) -- 12/13/12 -- Wyndham Hotel Group, the world's largest hotel company with nearly 7,260 hotels and part of Wyndham Worldwide Corporation (NYSE: WYN), today announced the opening of the 230-key Wyndham San José Herradura Hotel & Conference Center in San Jose, Costa Rica, the second Wyndham® Hotels and Resorts property to open in the country's capital in the last month.

The addition is further evidence of Wyndham Hotel Group's steady, strategic growth in Latin America and the expansion of the upscale Wyndham® brand in the region, following the November debut of Wyndham Garden San José Escazú, the brand's first hotel in Costa Rica.

The new property also joins sister hotel TRYP by Wyndham San José Sabana, which joined the company's portfolio in November 2011. Earlier this year, Wyndham Hotel Group announced the addition of its 100th hotel in the region.

Wyndham San Jose Herradura Hotel & Conference Center, located just minutes away from Juan Santamaría International Airport and downtown San José, offers complimentary high-speed wireless internet access, a variety of on-site dining options and the largest meeting and conference facilities in the country.

"We're thrilled to expand our company's offerings in the heart of San José, a city that has grown to be an international business and travel hub," said Daniel del Olmo, Wyndham Hotel Group's managing director of Latin America. "With its convenient location, first-rate amenities and differentiating, customer-centric 'Count On Me!' service culture, Wyndham San José Herradura Hotel & Conference Center makes for an incredible addition to the Wyndham family that will provide guests with all they need for productive and comfortable visits."