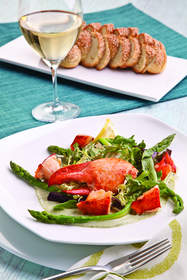 Lobster Salad with Asparagus Herb Mayonnaise


MISSION, KS -- (Marketwire) -- 12/13/12 -- (Family Features) The holidays are the perfect time to gather with your nearest and dearest to create lasting memories. But who says you have to follow the same traditions as in years past? For a fresh take on the holidays, celebrate with a Spanish-inspired feast of seafood.

Seafood is a culinary mainstay in various parts of Spain, and it's a big part of Nochebuena celebrations. Nochebuena is the name Spaniards give to Christmas Eve, but you can enjoy a Nochebuena-style dinner any time during the holidays with these delicious recipes from Martín Códax Winery in Rias Baixas, Spain. Here's how:

- Start off with a beautiful Lobster Salad with Asparagus Herb Mayonnaise. It's easier than you think to season your favorite mayonnaise and use it to top steamed lobster, and it's an impressive way to start a meal.

- Serve this simple, yet elegant, Pan-Seared Cod Fish on top of Crispy Bacon Mashed Potatoes, then top it all off with a savory White Bean and Olive Tapenade.

These dishes are perfect to pair with an Albariño, like the one from Martín Códax, a crisp, elegant and dry white wine that is often dubbed the "wine of the sea," due to its natural complement to seafood. Learn more at www.martincodaxwines.com.



Lobster Salad with Asparagus Herb MayonnaiseYield: 4 servings    1/2   pound thin asparagus, tough stems removed    1/4   cup chopped mixed fresh herbs, such as          chervil, parsley, tarragon or chives    1/3   cup mayonnaise     2    tablespoons champagne or sherry vinegar     2    teaspoons Dijon mustard     2    tablespoons walnut or hazelnut oil     2    1 1/4-pound lobsters, steamed, tail and          claw meat removed from shell     4    cups mixed baby lettuce          Juice of 1 lemon          Kosher salt and freshly ground black pepper
Prepare large bowl of ice water, and set aside. Bring shallow pan of salted water to a boil. Add asparagus and blanch until bright green and just tender, about 2 minutes. Remove and plunge into ice water bath to stop cooking, reserving asparagus water. Once asparagus is chilled, remove from ice water bath, pat dry and set aside.
Place herbs into blender and puree with 2 to 3 tablespoons reserved asparagus water until smooth. Whisk mayonnaise with pureed herbs and 1/2 the lemon juice. Then season with salt and freshly ground pepper to taste.
Whisk vinegar, mustard and remaining half of lemon juice together in large bowl. Slowly whisk in walnut or hazelnut oil until smooth. Season with salt and pepper to taste, and set aside.
Slice lobster tail into 1-inch pieces. Cut asparagus in half on diagonal. Add sliced lobster, asparagus and baby lettuces to dressing and toss gently to coat.
Spoon herb mayonnaise onto 4 plates in a circular pattern. Divide lobster evenly over plates. Place asparagus around it; mound salad greens in center of each, and top each with lobster claw.