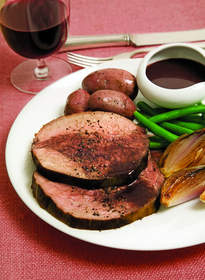 Cocoa Crusted Roast Beef with Chocolate Red Wine Au Jus


MISSION, KS -- (Marketwire) -- 12/13/12 -- (Family Features) Who says you have to wait until the end of the meal for a taste of chocolate? Make this holiday season unforgettable for family and friends by adding a sweet touch to each course of the holiday meal, from appetizer to entrée and even your wine.

You might think of chocolate as only a dessert option, but according to chocolate expert and historian Beth Kimmerle, using cocoa as an ingredient accentuates the complex flavors of your savory foods, amplifying them on your palate. Here are some of her deliciously different recipes that are sure to delight your taste buds and satisfy your sweet tooth.

You can find more delicious ways to enjoy the holidays at www.ChocolatRougeWine.com.



Cocoa Crusted Roast Beef with Chocolate Red Wine Au JusServe with ChocolatRouge Dark Red Wine, a full-bodied red wine with hints ofdark chocolate.Serves 63     pounds boneless rib-eye roast, tied with butcher's string      Coarse salt and ground pepper4     large shallots, peeled and sliced in quarters3     tablespoons cocoa powder1     cup ChocolatRouge Dark Red Wine1     cup beef broth2     tablespoons Dijon mustard
Preheat oven to 500 degrees F. Season beef with salt and pepper, then place in large roasting pan and sear all sides of roast on high heat until brown. Place roast in oven and cook for 30 minutes.
Remove meat from oven; reduce oven temperature to 350 degrees F.
Place shallots around beef and coat top of roast completely with cocoa powder; cook until an instant-read thermometer inserted into thickest part of beef registers 130 degrees F (for medium-rare), about 40 more minutes. Transfer beef and shallots to platter and cover with foil.
Add wine to roast pan; cook over medium heat until syrupy, scraping bottom of pan, about 3 minutes. Add beef broth and mustard; cook until reduced by half, about another 5 minutes. Strain into a small bowl and add any accumulated juices from beef. Season with salt and pepper; transfer au jus to a gravy bowl and serve with beef and shallots.
Hazelnut Chocolate Cheese Board SpreadServe with ChocolatRouge Sweet Red Wine, a soft, velvety blend of red winesand natural rich chocolate flavors.Serves 88         ounces blanched hazelnuts (1 3/4 cups), toasted1         teaspoon coarse sea salt1/2       cup confectioners' sugar4         ounces 60 percent semisweet chocolate, melted1/2       cup ricotta cheese          Parchment paper1/4       cup cocoa powder, for dusting
Puree 7 ounces (about 1 1/2 cups) toasted nuts and sea salt in food processor until mixture is coarse, almost paste. Add confectioners' sugar, melted chocolate and ricotta cheese, and pulse until fully combined.
Spoon mixture into round parchment-lined ramekin or container. Then cover and refrigerate for about 1 hour or until firm.
Once chilled, gently remove from ramekin and dust top with cocoa powder. Chop remaining hazelnuts and press into top of chocolate. Cut into wedges and place on cheese board.