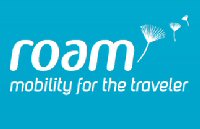 VANCOUVER, BRITISH COLUMBIA -- (Marketwire) -- 12/12/12 --


-- High roaming costs negatively impacting how Canadians are able to use their phones when travelling to the United States-- Canadians account for nearly 1/3 of inbound travellers into the United States-- For $3 a day, Roam Mobility offers travellers into the United States unlimited call and text anywhere in the United States and back to Canada
As the holidays approach, many Canadian travellers are looking for affordable solutions to combat the siphoning roaming charges that go along with any vacation. Roam Mobility Inc. ("Roam"), the largest provider of alternative roaming services for Canadians travelling in the United States, is all too familiar with this problem and says incurring roaming charges is a top concern for all Canadian travellers.
A new study says Canadian consumers want better protection from international data roaming fees on their cellphones. The study by the Public Interest Advocacy Group says Canadians are insecure about using their wireless device while travelling. The PIAC study(1) found that 44 per cent of those surveyed said they preferred to leave their device off when travelling.
"When Canadians go on vacations, they want to be connected with family and friends, just like they are at home. Unfortunately, high roaming charges makes it painfully expensive," said Emir Aboulhosn, Roam's Founder and Senior VP of Business Development. "We recognized the inconvenience and expense travellers feel either in the States when they are not connected, or when they see their cellphone bills when they return home. We think we have a cost effective way to combat this huge problem."
According to an Organization for Economic Cooperation and Development (OECD) report released in May 2011, Canadian's largest wireless providers charge some of the highest fees for international data roaming among the 34 countries in the OECD. The report stated Canadians travelling abroad paid an average of $24.06 to use one megabyte of data in a single day if they were Bell and Rogers subscribers during the study period last fall. That's 2.6 times the OECD average of $9.27 (OECD May Report(2)).
In order to ease the roaming costs for Canadian travellers, Roam provides several affordable roaming packages, including unlimited call and text within the United States and back to Canada for only $3 a day. In addition, Roam offers data plans from as low as $0.02 per MB. Compared to other carriers, Roam's service is the most cost-effective and provides easy activation for its users.
About Roam Mobility
Roam Mobility is a leading telecommunications provider of roaming services for Canadians travelling to the United States. Our innovative products and services include the dual SIM travel Breeze Phone, easy to use SIM card for your unlocked phone, and Liberty, a mobile hotspot which provides wireless data for up to five devices. Our service operates on a USA nationwide platform which, together with our products, represents the best roaming alternative for today's USA-bound traveller. For more information on our solutions, visit:
www.roammobility.com
.
(1) PIAC Report, December 10th, 2012.
http://www.piac.ca/telecom/canadian_consumers_expect_better_protections_for_international_roaming_fees/
(2) OECD (2011), "International Mobile Data Roaming", OECD Digital Economy Papers, No. 180, OECD Publishing.
http://dx.doi.org/10.1787/5kg9zb67l6r3-en


Contacts:
Magnolia Communications
Jamil Karim
604.317.5786
jkarim@magnoliamc.com

Roam Mobility
Lynda Phan
604.270.7626
Lynda@roammobility.com
www.roammobility.com