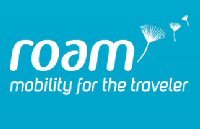 VANCOUVER, BRITISH COLUMBIA -- (Marketwire) -- 12/12/12 --


-- New "Breeze" phone has a variety of features, including unlimited talk and text within the US and back to Canada from $3/day-- Breeze phone is dual SIM, allowing users to keep their Canadian phone number and USA phone number on the same phone-- Breeze phone operates on one of the largest carrier networks in the United States
Roam Mobility Inc. ("Roam") is pleased to announce the launch of their new "Breeze" Dual-SIM Traveller's Phone, which will provide a convenient and cost-effective way for Canadians to save money on roaming charges when travelling to the United States.
The Breeze has a variety of features, including:
-- Unlimited talk and text within the US and back to Canada from $3/day.-- Pay for service only when you travel.-- Receive your own US number while keeping your Canadian number on the same phone-- No contracts or monthly commitments.-- Comes with a Roam SIM card.
"The Breeze is a perfect traveller's phone that comes with customizable plans to suit the consumer's needs," says Emir Aboulhosn, Roam's Founder and Senior VP of Business Development. "This phone solves a major consumer need, as they will no longer have to worry about incurring huge roaming fees and will still have the flexibility to stay in contact with whomever they want in both Canada and the United States."
Of the 60 million inbound travellers into the United States, nearly 1/3 come from Canada. The Breeze phone provides Canadian travellers with several affordable roaming packages, including unlimited call and text within the United States and back to Canada for only $3 a day. With the convenience, price, and flexibility of their plans, Roam offers the best solution for Canadian travellers who are looking to avoid large roaming fees.
The phone will be available to purchase on Saturday, December 15th either online at
http://www.roammobility.com
or at store locations which can be found here:
http://www.roammobility.com/where-to-buy/
About Roam Mobility
Roam Mobility is a leading telecommunications provider of roaming services for Canadians travelling to the United States. Our innovative products and services include the dual SIM travel Breeze Phone, easy to use SIM card for your unlocked phone, and Liberty, a mobile hotspot which provides wireless data for up to five devices. Our service operates on a USA nationwide platform which, together with our products, represents the best roaming alternative for today's USA-bound traveller. For more information on our solutions, visit:
www.roammobility.com
.


Contacts:
Magnolia Communications
Jamil Karim
604.317.5786
jkarim@magnoliamc.com

Roam Mobility
Lynda Phan
604.270.7626
Lynda@roammobility.com
www.roammobility.com