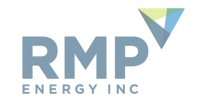 CALGARY, ALBERTA -- (Marketwire) -- 12/12/12 -- RMP Energy Inc. ("RMP" or the "Company") (TSX: RMP) is pleased to announce that the Company's Board of Directors has approved an exploration and development expenditures program of $85 million for 2013 (the "2013 Capital Budget"). The 2013 Capital Budget is expected to be self-financed by funds from operations (refer to forecasts below). RMP possesses the financial flexibility for additional funding through the Company's bank credit facility, which was recently expanded to $110 million, for any capital program expansions in 2013.

The 2013 Capital Budget will encompass the continued, focused development of RMP's 100%-owned, Montney light oil resource plays. At Waskahigan in West Central Alberta, the Company plans to drill eight wells with five wells planned at Ante Creek and one well at Grizzly, which is located to the southeast of the Company's Waskahigan asset base. The drilling and completion expenditure component of RMP's 2013 Capital Budget is projected to approximate $57 million, with remaining budgeted funds of approximately $28 million allocated towards investments in well-site equipment, field facilities, gathering lines and strategic undeveloped land expansion.

Based on the budgeted capital expenditures anticipated within the 2013 Capital Budget, average daily production for fiscal 2013 is projected to range 6,000 to 6,500 boe/d, weighted approximately 60% light crude oil and NGLs and 40% natural gas. This forecasted production range represents a 15% to 25% increase over the Company's 2012 average daily production estimate. Notwithstanding strong budgeted production growth within a cash flow-based capital program, RMP's forecast assumes limited gas processing capacity at Ante Creek of approximately 3.0 MMcf/d. Presently, the Company is facility limited for processing of associated solution gas at Ante Creek. The associated Montney solution gas is conserved and processed at an area operator's gas plant. Oil production from Ante Creek is presently being trucked into RMP's Waskahigan oil battery. The Company is presently evaluating numerous gas take-away alternatives in order to increase processing capacity for 2013. Additionally, the forecasted production assumes limited ability to truck oil during spring break-up surface conditions at Ante Creek. The Company is factoring into its 2013 forecast reduced oil trucking loads of 50% during the months of April and May.

Assuming the median of the forecasted average daily production range and utilizing the current forward 2013 pricing assumptions of US$88.50 per bbl for West Texas Intermediate ("WTI") oil, an AECO gas price of C$3.05 per gigajoule, an oil differential of C$11.30 per bbl and an above par Canadian dollar exchange rate of $1.01 (US$/C$), the Company's funds from operations for 2013 is estimated at $0.80 per basic share or approximately $83 million in aggregate, which represents a significant increase of 60% and 66%, respectively, over projected 2012 funds from operations. Field operating netbacks for 2013 are forecasted at approximately $40/boe, as compared to the estimated $30/boe netback for 2012, reflecting the Company's successful ongoing transition to a low cost, light oil-weighted producer resulting in stronger internal cash flow generating capabilities. For calendar 2013, the Company has 1,000 bbls/d of crude oil hedged with a fixed weighted average price of C$100.17/bbl.