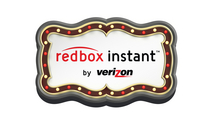 NEW YORK, NY -- (Marketwire) -- 12/12/12 -- Redbox Instant™ by Verizon, a joint venture between two market leaders, Redbox, a subsidiary of Coinstar, Inc. (NASDAQ: CSTR), and Verizon Communications Inc. (NYSE: VZ), unveiled further details of its soon-to-launch service and announced agreements with Hollywood studios and device manufacturers that will bring thousands of popular movies to consumers at home and on the go.

Later this month, the Redbox Instant by Verizon beta product will launch to consumers. Priced at $8.00 per month, Redbox Instant by Verizon offers a high value subscription package that combines unlimited streaming of thousands of popular movies, including titles from premium network EPIX, with four one-night credits per month for the latest movie releases on DVD at Redbox® kiosks. For $1 more, or $9.00 per month, customers can opt to redeem their four credits for rentals on Blu-ray Disc™ at the kiosk.

By combining both disc and digital movie formats, Redbox Instant by Verizon subscriptions offer consumers access to Hollywood's newest releases, as well as a rich catalog of popular movies, all for a great price. Customers can also use Redbox Instant by Verizon without a subscription and select new releases available for purchase or rental, or simply reserve for pick up at their local Redbox kiosk location, giving movie-lovers more choice and flexibility in how they watch their favorite films.

"We are building a compelling entertainment choice through our ability to support both physical and digital distribution of movies that people love, made possible by the depth of relationships we've established with top Hollywood studios and distribution partners," said Shawn Strickland, CEO, Redbox Instant by Verizon.

Through the agreement with EPIX, Redbox Instant by Verizon's subscription customers will be able to instantly stream new releases such as Mission Impossible: Ghost Protocol and The Hunger Games from EPIX's studio partners, Viacom's Paramount Pictures (NASDAQ: VIA) and (NASDAQ: VIA.B), Lionsgate (NYSE: LGF), and MGM 90 days after they premiere in the traditional premium window.

"Redbox Instant by Verizon will be an exciting new service for consumers in the digital entertainment marketplace and we are thrilled to be their partner, providing our movies from some of the world's leading studios," said Mark Greenberg, president and CEO of EPIX. "We have a long and successful relationship with Verizon FiOS, which was our first distribution partner at the launch of EPIX, and we are excited to build on that relationship with Redbox Instant. We are confident that the movies we have will be a popular and important part of the success of this new service."

Movie content on Redbox Instant by Verizon will be bolstered by electronic sell-through (EST) and video-on-demand (VOD) rental agreements with major studios. New releases from Lionsgate, NBCUniversal, Paramount Pictures, Relativity and Sony Pictures Home Entertainment will be available in EST and VOD formats and will allow Redbox Instant by Verizon to support and provide multi-screen access to movies.