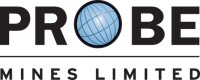 TORONTO, ONTARIO -- (Marketwire) -- 12/12/12 -- PROBE MINES LIMITED (TSX VENTURE: PRB) ("Probe" or the "Company") is pleased to announce that it has received further assays from its ongoing drilling program at the Company's Borden Lake Gold Project near Chapleau, Ontario. Results for diamond drill holes BL12-247 to BL12-271 were received and continue to expand the Borden Lake gold zone to depth, identify new mineralization to the hanging wall side (northeast) of the main zone of mineralization and confirm the main zone continuity through infill drilling. Results include the highest grade interval reported to date, a 51-metre wide zone averaging over 10 g/t Au, including 25 metres of 17.8 g/t Au, which represents a significant improvement of the deposit's higher-grade core.

Of the twenty-five (25) new holes, six (6) represent expansion of the main zone mineralization to depth; fourteen (14) represent drilling in the immediate hanging wall of the main zone testing for parallel gold zones; and the remaining five (5) were drilled as infill to previous drilling of the main zone.

As with previous depth expansion drilling on the main mineralized zone, results suggest that gold grades are improving, with all significant intersections reported here returning values at or above the 0.6 g/t gold ("Au") cut-off used to define the Updated Resource (see news release dated April 2, 2012). Of particular interest is Hole BL12-256 which returned the highest-grade intersection reported to date for the Borden Lake deposit, averaging an impressive 10.3 g/t Au over a 51 metre true width intercept, including a 25 metre interval averaging 17.8 g/t Au, on Section 1200m SE. This intercept was bounded by two other high-grade intercepts 100 metres above and 90 metres below in holes BL12-248 and BL12-268, which returned intervals of 34.9 metres averaging 2.2 g/t Au and 38 metres grading 1.6 g/t Au, respectively. These results confirm the potential for the Borden Lake zone to host much higher grades than previously observed.

The Hanging Wall drilling program is continuing to identify and delineate parallel gold zones to the northeast of the main mineralized horizon. Four of the reported holes have continued to define and improve gold-bearing intervals observed above the main zone. Highlights include a 16.1 metre intercept averaging 0.6 g/t Au in Hole BL12-250 (Section 600m SE) and a 6 metre interval grading 5.4 g/t Au in BL12-254 (Section 500m SE). Continued drilling on this program will be required to further delineate gold mineralization that could potentially be added to future Resource updates. The hanging wall zones could be important to further evaluation of the deposit as they can potentially add new gold resources in an area that already falls within the postulated pit outline generated by the most recent Resource Estimate.

Of the five infill holes reported in these results, four confirmed the same or higher grades from previously reported sections. Highlights include a 68 metre wide interval averaging 1.8 g/t Au, including 24.2m averaging 2.7 g/t Au, in Hole BL12-270 (Section 100m NW) and a 57 metre wide intercept averaging 1.4 g/t Au, which includes a 16.8 metre interval averaging 2.4 g/t Au, in Hole BL12-253 (Section 200m NW).